Who doesn't love a good room transformation? We've compiled 5 different looks at before and after window treatments. These five looks each show off different styles and types of window treatments. So, no matter your personal style, we offer treatments that will meet your needs, both stylistically and functionally.
Amplify Love for Your Favorite Spot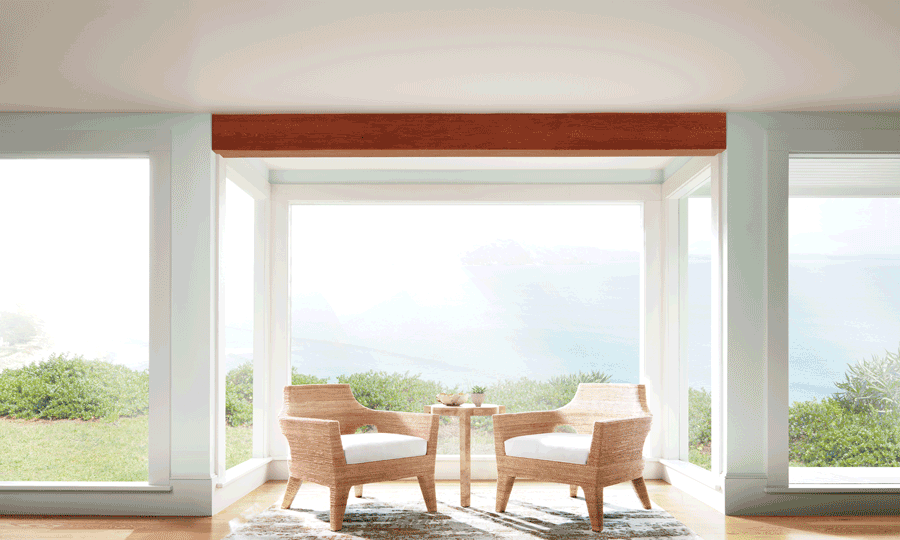 Are there times of day where you avoid your favorite sitting area due to the harshness of light coming through? What about a pesky glare? There should be nothing stopping you from cozying up in that favorite spot of yours with a delicious cup of coffee, a good book, or for a long conversation with someone you love. Take a look at how these stunning interior shutters enhance the space. They add light control while also keeping with the style of the space.
Large Windows…No Problem
It's no secret that large windows naturally draw people in. However, it's not until you have them in your own home that you realize there can, in fact, be a few downsides to these picturesque windows. They are constantly letting all the light in, there's little to no privacy, and the energy efficiency can be lacking. But, many problems can be fixed with the right window treatments! In this space? That dreamy view is still the backdrop, while other issues are solved with sheer shades.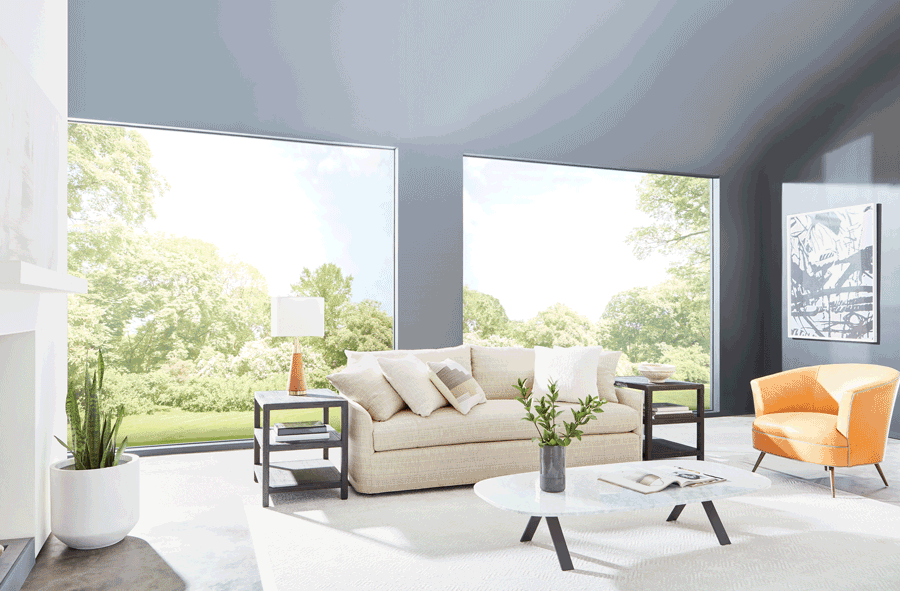 Blinds Will Always Be In
Does the idea of "Blinds" seem old school? Well, they have been around a long time! However, each year the styles for blinds are changing. Today, there are types of blinds that will match nearly any design style! Notice how these sleek blinds fit seamlessly into this modern kitchen? They help to make the space more comfortable for meal and gathering times. No matter your style preference, there are blinds to match.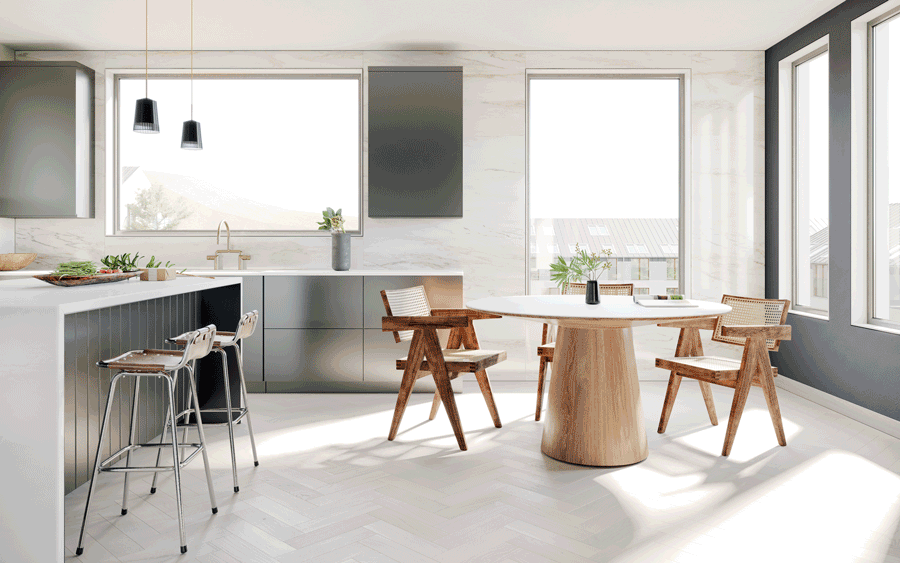 Create Your Preferred Atmosphere
Every home requires different solutions for the windows within. In fact, each room can often have its own set of problems. Our vast array of window treatments are sure to satisfy every need for every window within your home, while also helping to create your preferred atmosphere. Smart shades add a level of convenience that is unmatched by any other window treatment. With them you can select your atmosphere preferences, and even set them to your ideal schedule.
Direction and intensity of natural light coming in
The view, both in and out
Temperature control
The amount of adjustments to the window treatments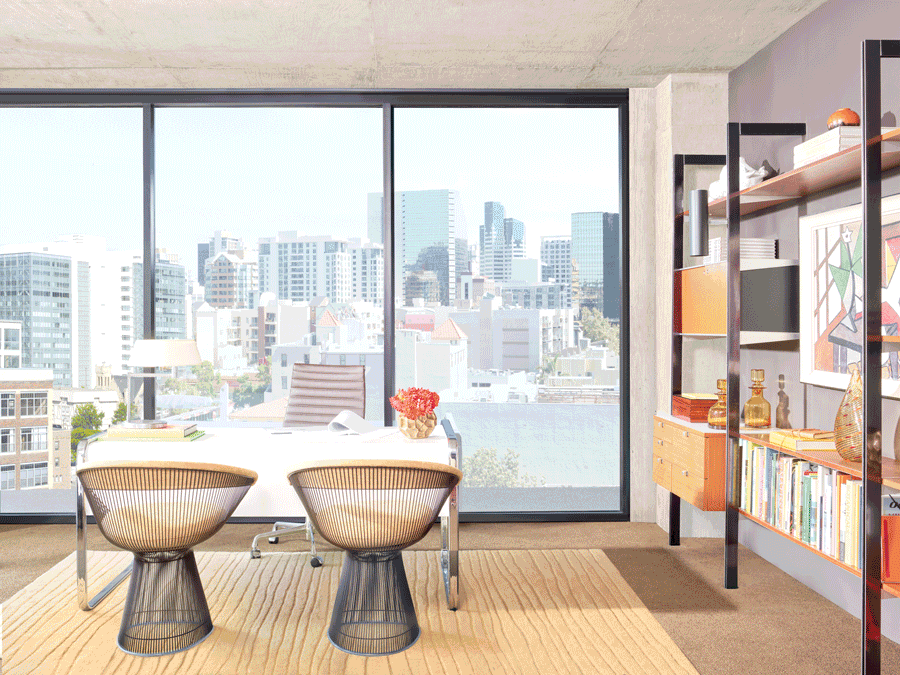 Protect Your Home from UV Rays
You're likely well-versed on the damage UV rays can do your skin. But, what about what they can do to the interior of your home? Those hardwood floors that you cherish? They could be severely faded by harsh rays pouring in. Along with the floors, your walls, art, furniture, and more can all be damaged over time from UV rays.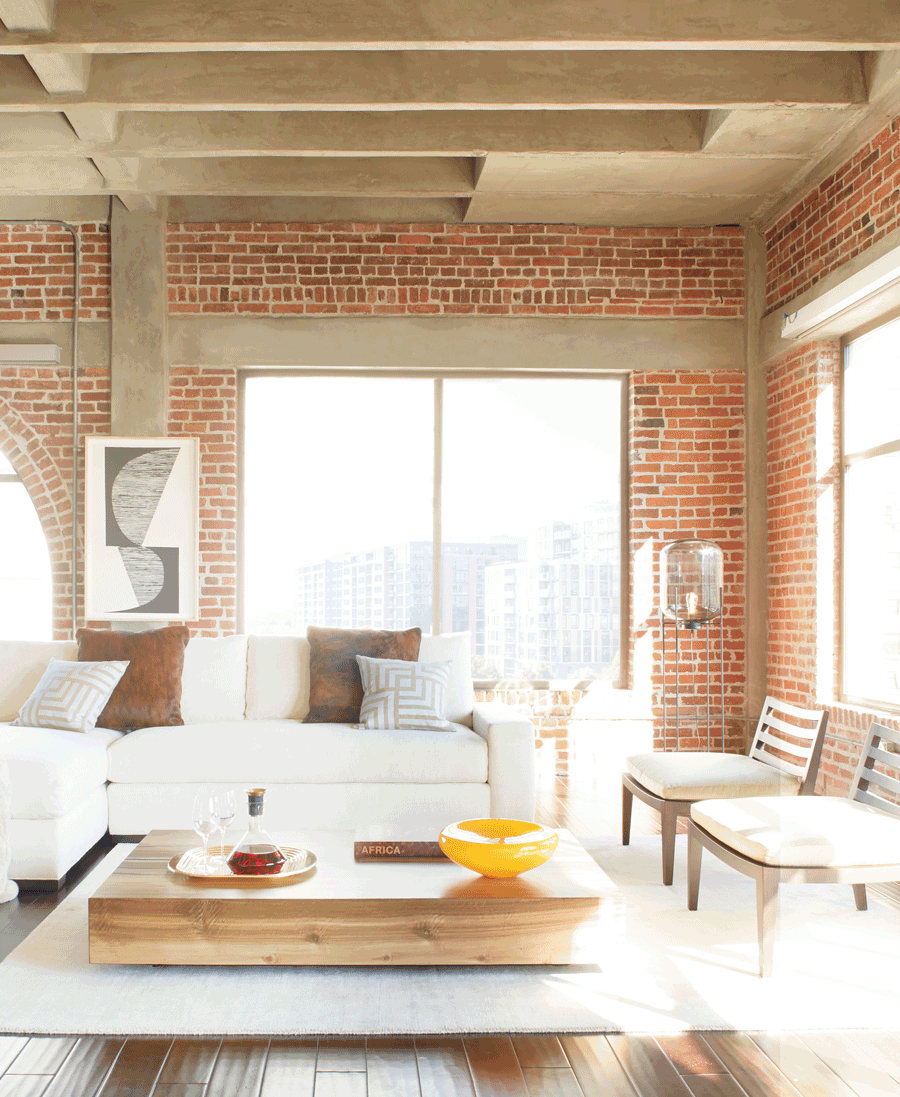 That's where window treatments come into play again! Yet another benefit of the right solutions on your windows. Just look at the before and after window treatments in this loft space above. Notice the glare shining on the floors before the treatments are in place?
Ready for Your Own Before and After Window Treatments Transformation?
After seeing the transformations of before and after window treatments, are you ready for your own? No matter what solutions you're seeking from window coverings (privacy, energy efficiency, interior temperature control, added light control, etc.) our team of experts is here to help you through the process. Contact us today for your FREE consultation.