Do you have doors in your home that require window covering solutions? This is one area that many of us struggle with in our home design. There are so many options for covering doors that it can be hard to know where to start. Look no further…we have some design solutions for you. Whether you have patio doors, french doors or sliding doors–we have window covering ideas!
Privacy at your Door
If you have an entryway door that has windows, either flanking a solid door or windows incorporated into the door, you may feel a lack of privacy in your home. Anyone approaching your door can see inside. This may give you a feeling of insecurity. A common solution is to use opaque fabric to cover the window which helps to keep foot traffic from seeing inside. Another option is to install shades on the windows. If you have a solid door with narrow windows on the sides, called sidelights, a popular solution is a honeycomb shade, as seen below.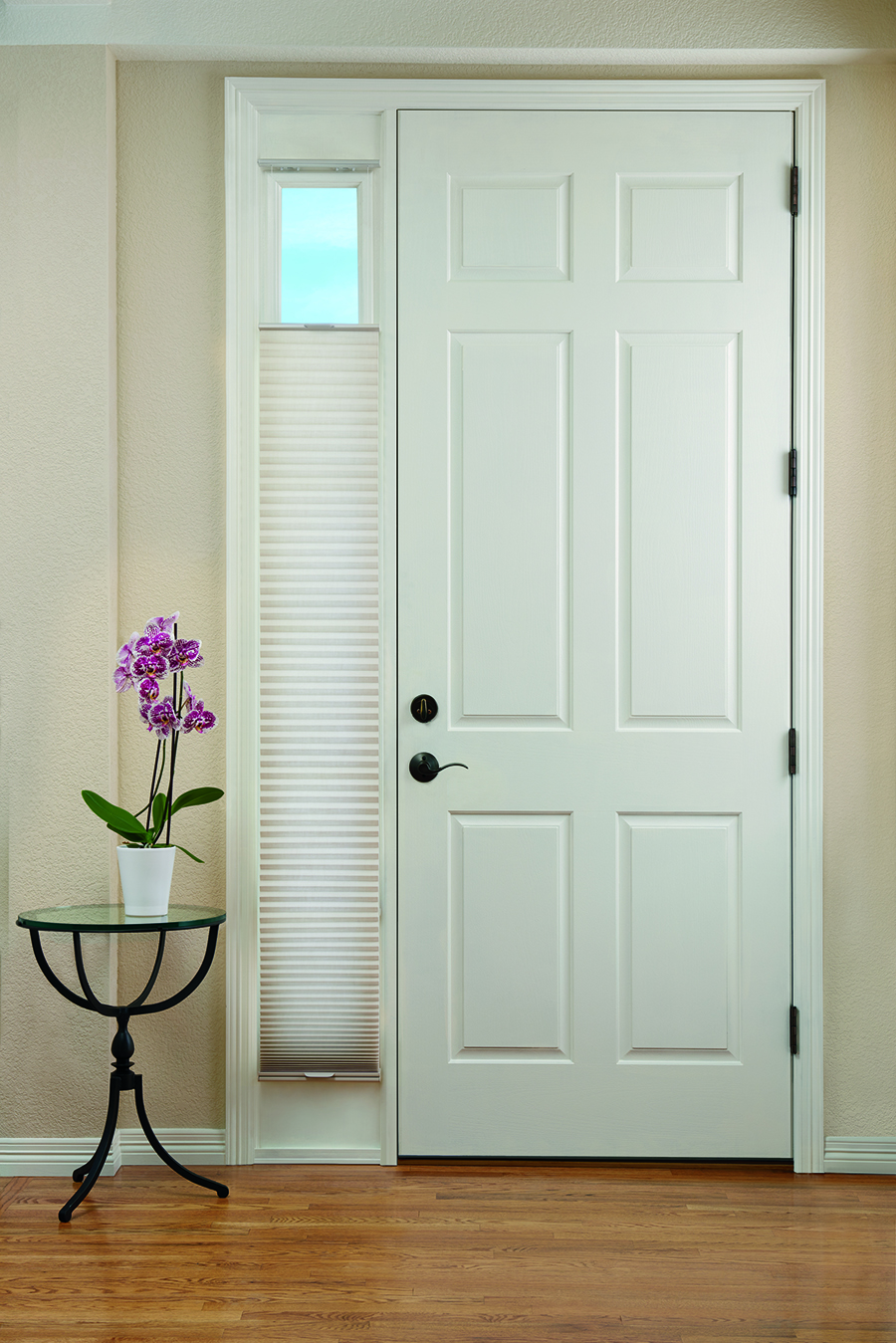 A honeycomb shade will block unwanted light and is energy efficient as well. The top down feature allows you to stream light into your space while still maintaining the privacy you desire inside your home.
Patio Door Dilemmas
Patio doors are opened and closed many times throughout the day. These doors are at the back of your home and may be the gateway to your leisure activities. Whether you go out to the patio for your morning coffee, or your kids run in & out throughout the day for playtime, this door usually gets a fair amount of use. Additionally, patio doors often consist of multiple windows that bring in much desired natural light. Covering these doors can help with unique challenges.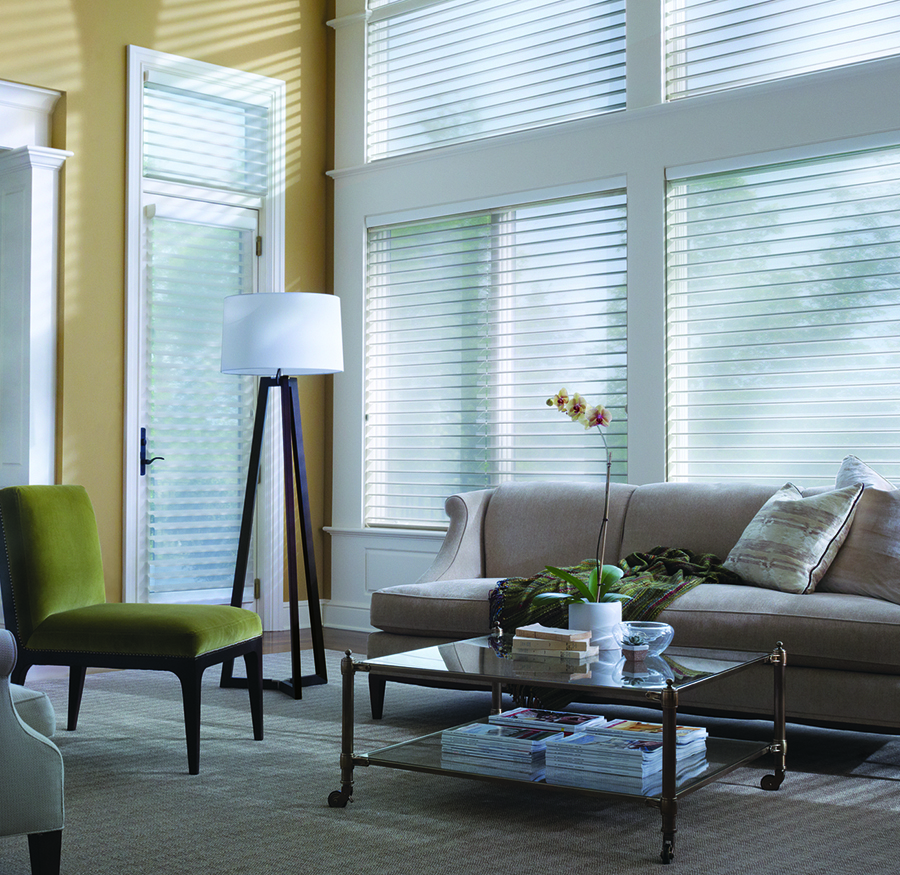 Popular covering solutions are sheer shades and roller shades. Both of these options filter light entering the room while still providing levels of privacy. It is a breeze to enter and exit through doors covered in these low profile designs.
Sliding Door Window Solutions
Landscape views and streaming natural light are some of the many benefits of sliding glass doors. However, glare, harsh light and lack of privacy can be the downside of  these features.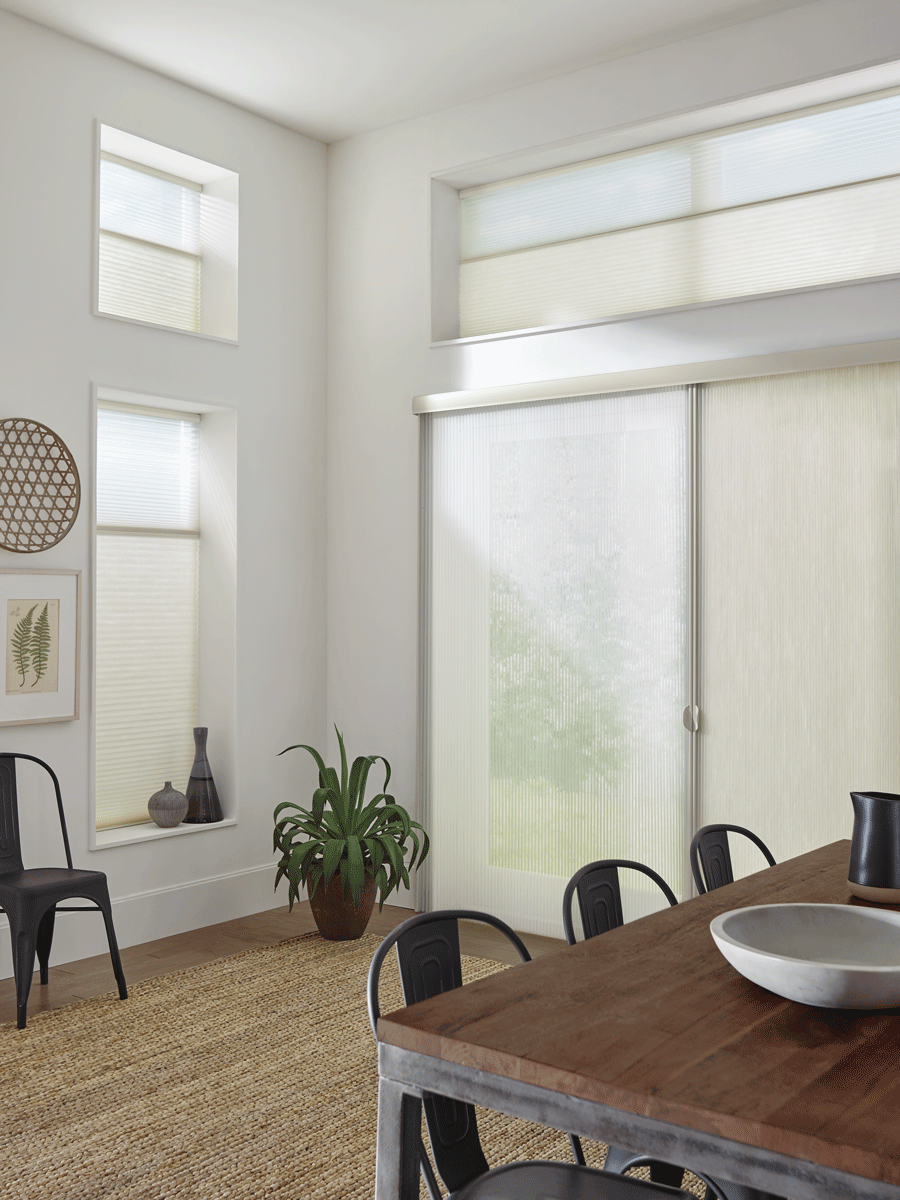 Additionally, these doors are in high traffic areas. Covering doors that slide will achieve the privacy and light control you require but are usually a custom solution.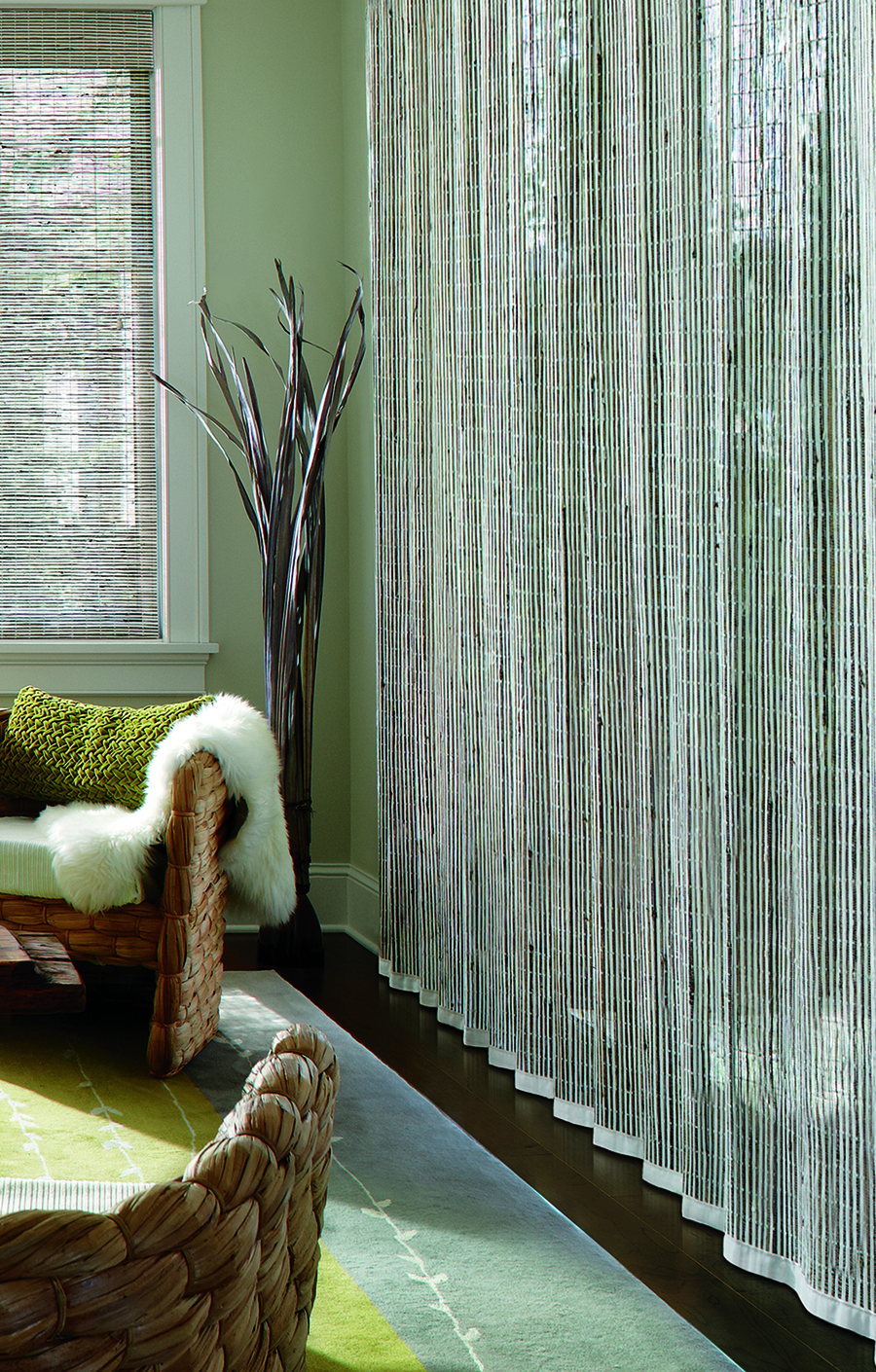 In this day and age, automation is a sought after feature which will make your life a little easier. Your window treatments will operate with little effort on your part using voice control integrated with your smart home device.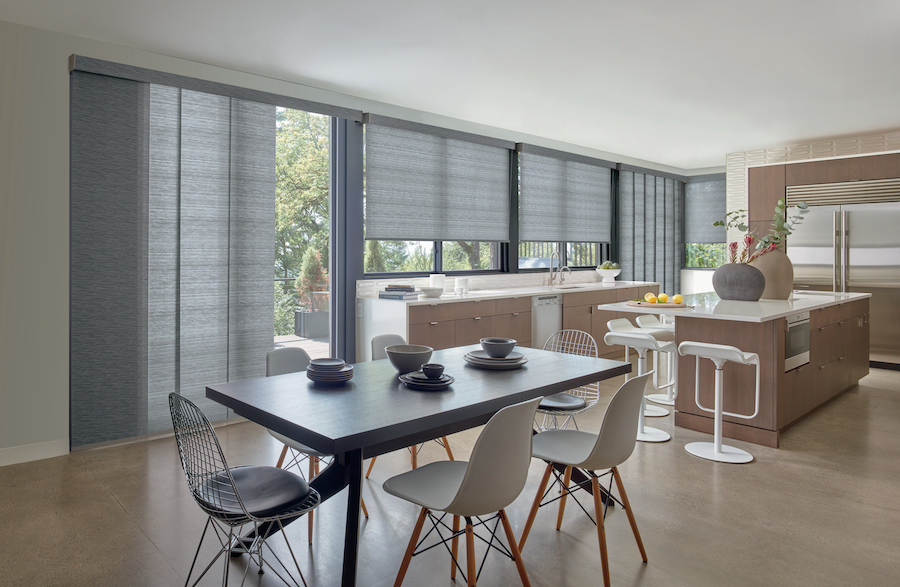 French Door Finishes
Who doesn't love french doors? They are beautiful without any further enhancements! However, the glass panels, which make them so visually appealing, allow unfiltered light to enter and may not offer the privacy you desire.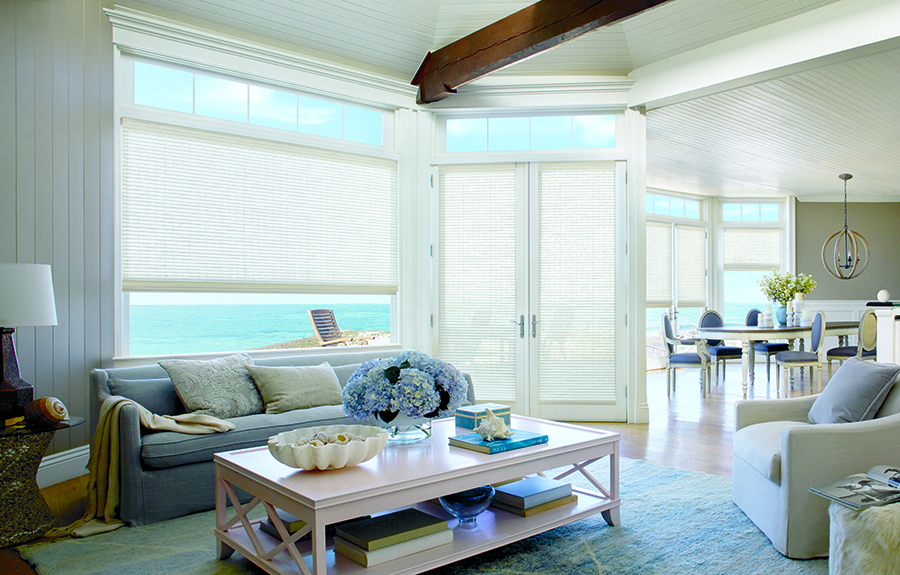 Shutters offer a custom look for your french doors and coordinate well with your home décor. These classic designs come in both wood stain and painted white. A unique feature of these shutters is the door handle cutouts, as seen below.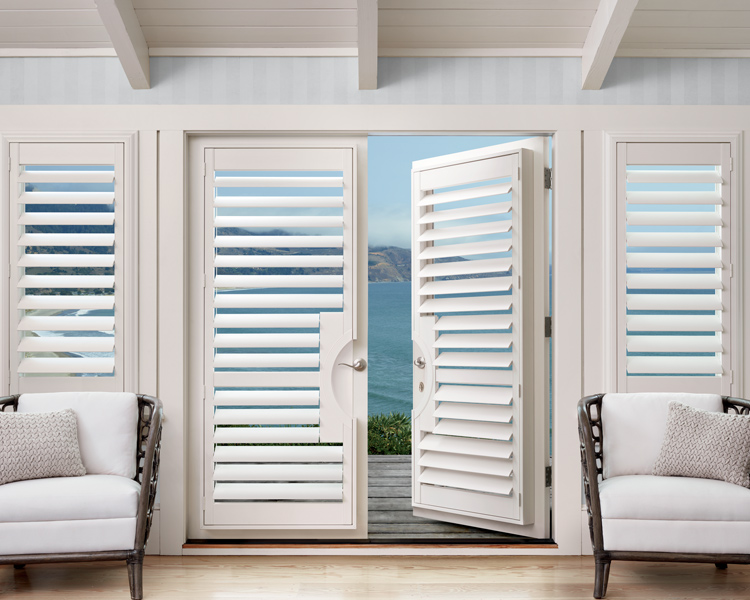 If you are drawn to a more traditional decorating style, draperies may be the perfect solution for your french doors. When left open, the panels frame your french doors for a finished look. If light control is desired, the draperies are easily closed.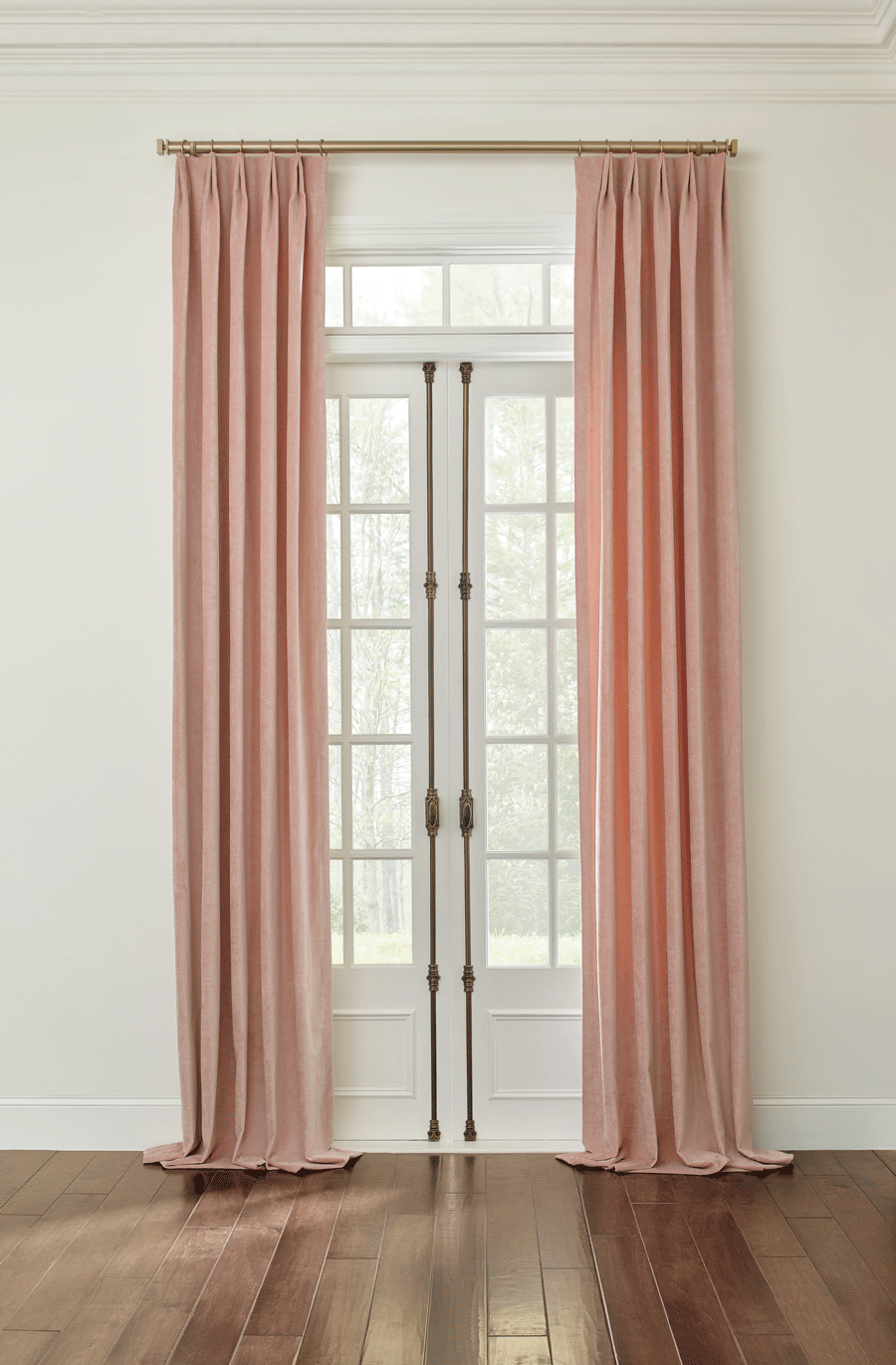 Looking at Covering Doors?
Whether you desire more privacy, light control, security or energy efficiency, covering your doors may be the solution. Not only does adding window coverings offer these benefits, but these treatments are a stylish option that will add a finishing touch to your home as well. We have many ideas and choices for you!  Get in touch with our team, at Blue Sky Shutters & Shades, for your FREE design consultation!