A stunning trend has made its way into interior design that we are excited to highlight. This trend is layered fabrics. They act as the art of the window. By layering textures, fabrics and colors, you are adding dimension and an aesthetically pleasing final touch to any room in your home. It also creates a softening effect on your space! 
Soft Neutrals 
Soft neutrals are a definite trend in home decor today. Colors like off-white, champagne tones and natural linen are becoming more and more popular. However, there is a balance between stale & boring and classic & understated. This living room does a superb job of showing what soft neutrals look like with layered fabrics. It is evident that they create height and depth in the room without being overwhelming.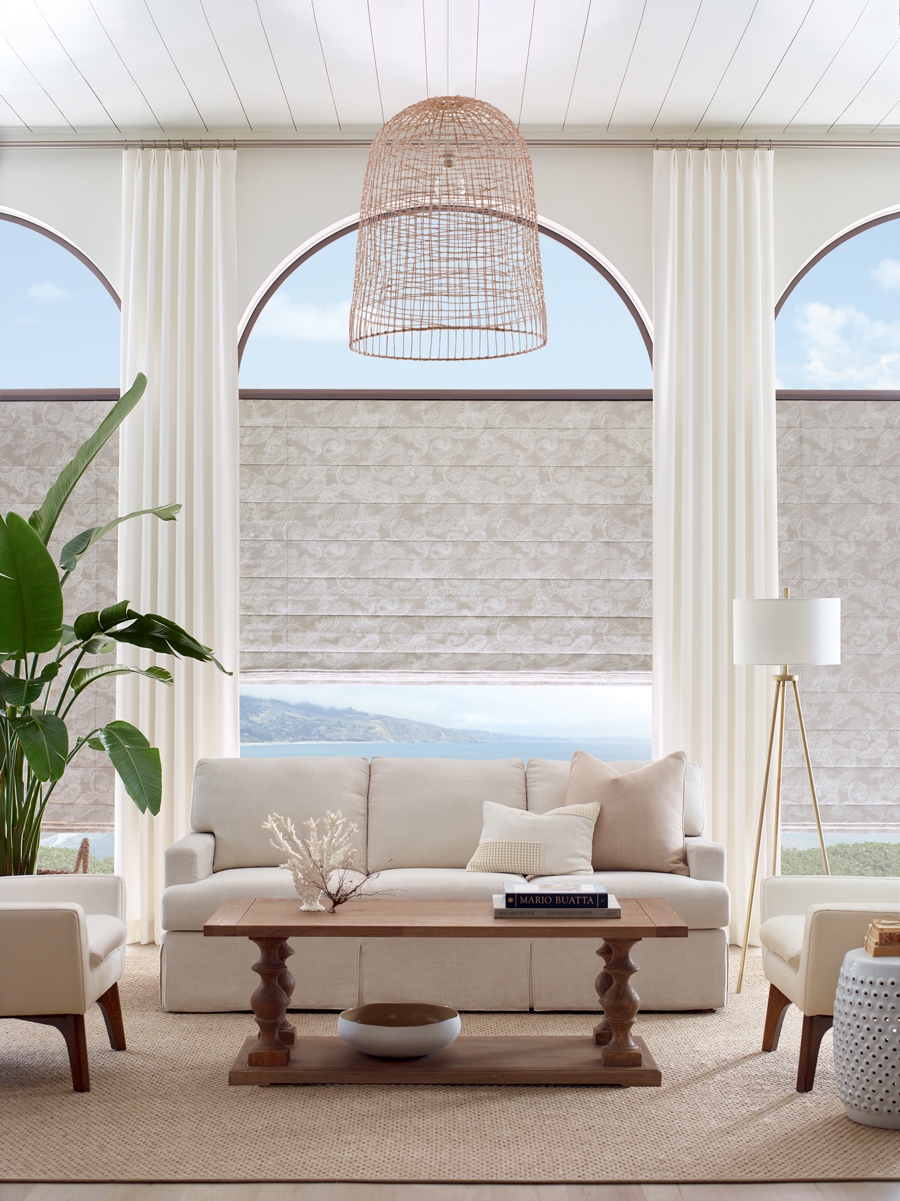 Draperies installed at ceiling height draw the eye upward. In this case, it highlights the arched windows in the room. The best way to do this is by utilizing roman shades. Not only do they offer light control, but they allow you to showcase the shape of your window as well. If you aren't drawn to soft neutrals, we have another option for you!
Dark and Moody Designs
If you wish to be bold with the colors you choose for the window coverings in your home, you may be leaning toward dark, moody designs. This includes colors like blues, purples and grays. It also includes some bold reds, deep purples and rich greens. The key to using the color scheme is to recognize when enough is enough. You can select the colors you love the most, and start to style the layered fabrics.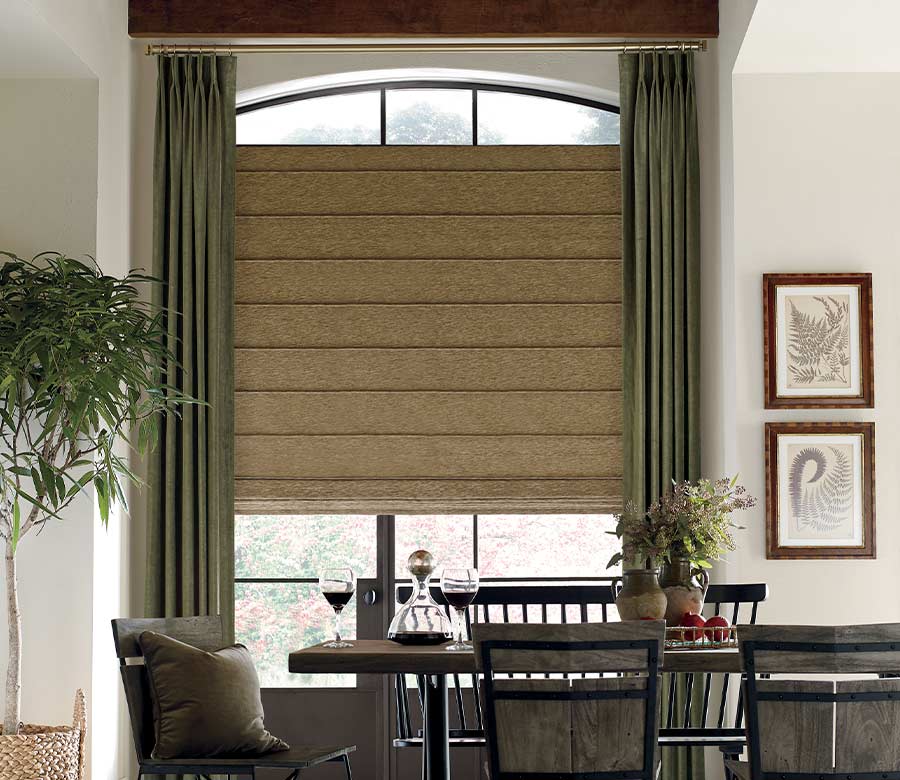 For instance, think about mixing patterns with solids. An important step is to ensure that there are plenty of light colors in the room. This will help create the perfect atmosphere in your home. 
Style & Function Go Hand in Hand
There are so many positives to layered fabrics in your home. The base shade, roman shades, for instance, offer light control and optimum privacy. They also are known for being energy efficient and protecting against outdoor elements. You can even choose to enhance the functionality of your home by adding automation or room darkening!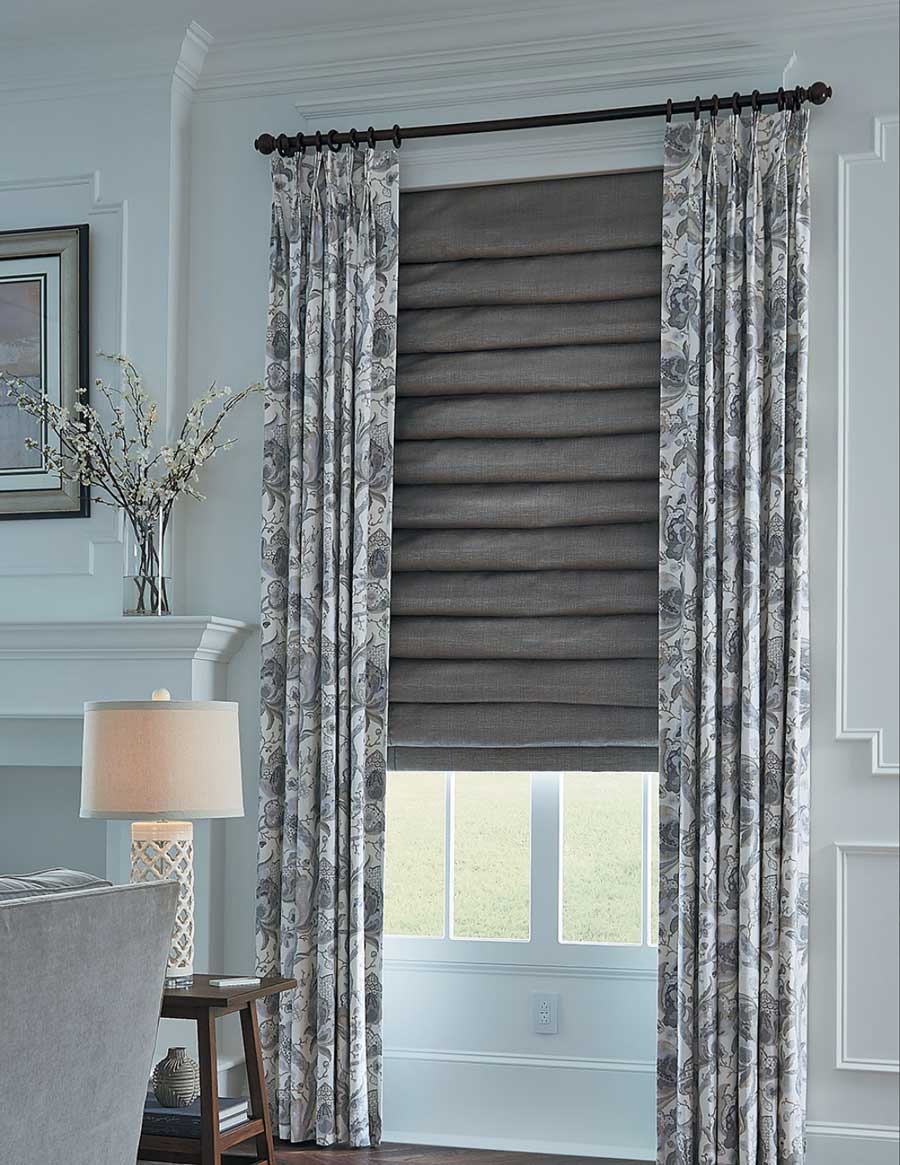 After you have identified the needs of your base shade, you can begin exploring different colors and patterns. This window perfectly showcases how you can take a solid base shade and improve it by adding patterned draperies. Who knew that layering could be so fun?
Want Assistance? 
If layered fabrics are calling your name, look no further than Blue Sky Shutters & Shades. Our designers would love to help you add functionality, style and dimension to your home. Contact our team today to schedule a FREE at-home consultation. We can't wait to help you add layered fabrics into your home, and breathe some fresh air into your space!