A new year always opens the door for change. This year, be inspired by our 2023 Window Treatment Trends, and create the home you've always dreamed of. Discover new ideas that solve window issues and incorporate fresh design concepts that make your home look spectacular, too. The 2023 trends have staying power, providing the style + function you can enjoy for years to come. This is what's trending…
Style Naturally
To start, one of the simplest 2023 window treatment trends to implement is the use of organic materials. We love the idea of bringing natural elements into the home through window treatments. Choose bamboo, grasses and woven woods to introduce an earthy feel to your home. Elevate your otherwise flat, neutral palette with window coverings made from organic materials. Go from glum to gorgeous! Discover how Woven Wood Shades or Alustra Woven Textures can add to the look of your home.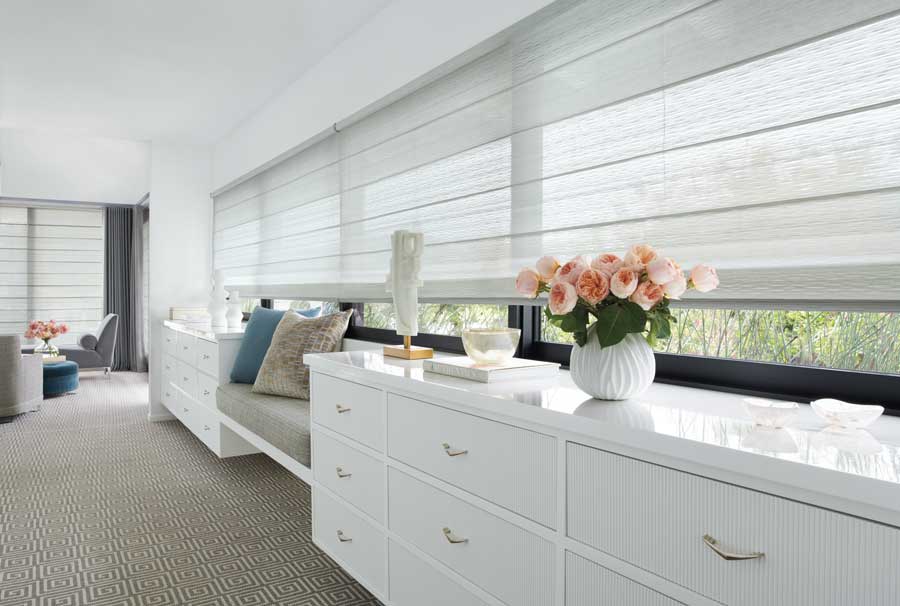 Smarter Home
With our busy lives, it's nice to have one less thing to think about. Home automation continues to improve and more and more people are embracing smart home technology. Our clients love the idea of setting their motorized blinds, shades, shutters or drapes on a schedule that works for them. It's not only convenient, but smart home automation also provides home security by lowering blinds at night and energy savings by blocking out the elements during the day. Learn more about PowerView Automation.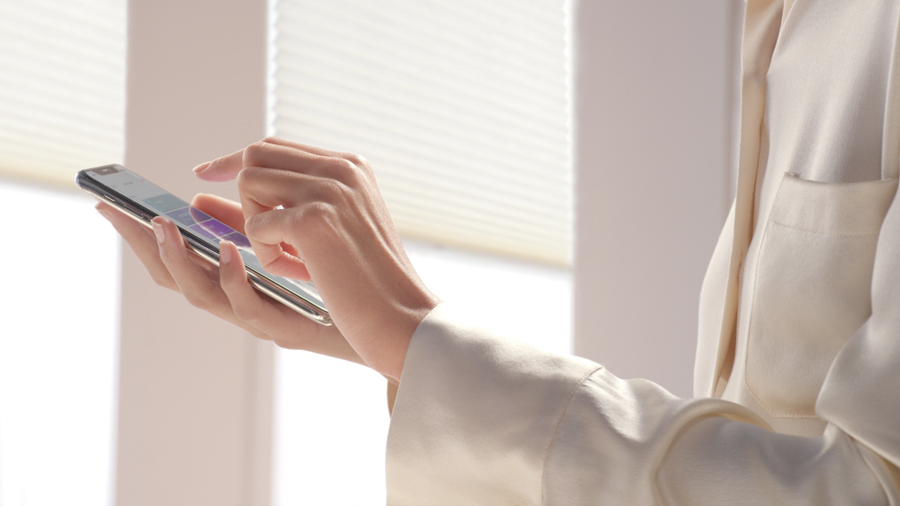 Luxury Shades
Luxury and roller shades in the same sentence? Yes! With modern roller shades offering stunning fabrics, designer prints and unique hardware, you can have the sophisticated look you want with the reliable function of a roller. Today, rollers are capable of so much. They can block out extreme glare OR allow for a view-through to the outdoors, it's your choice. It all comes down to the fabric you choose to create them. If you need your roller shade to provide both functions, consider our dual roller shades. Learn how Designer Roller Shades play a big role in 2023 window treatment trends this year.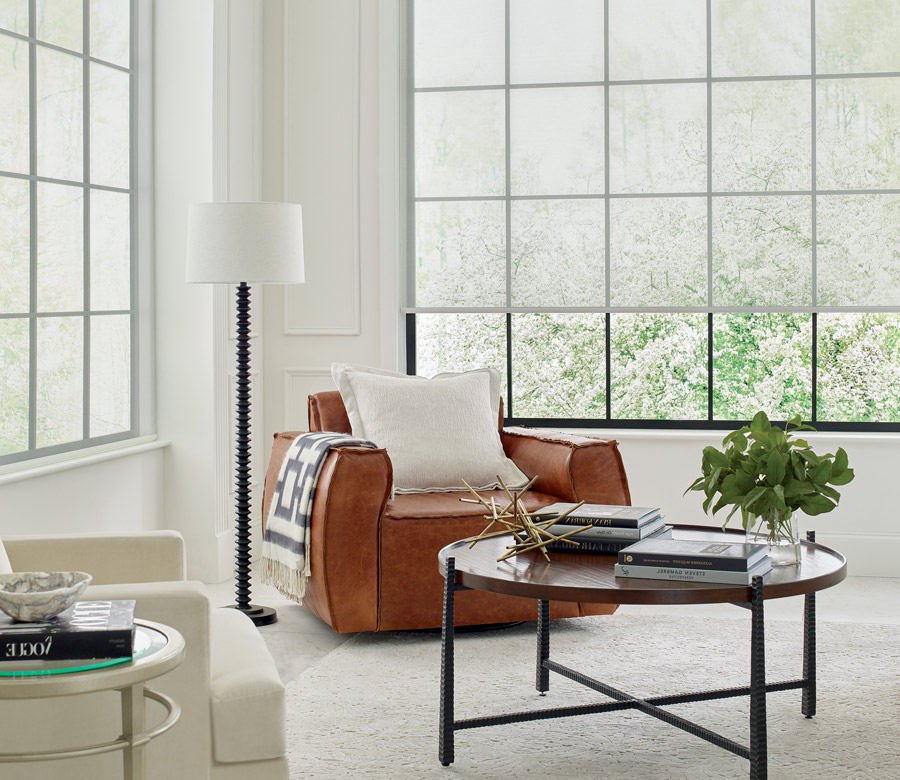 Layered Fabrics
Beautifully on-trend, the idea of layering drapery and shades at the window is a timeless look. Incredibly functional, they provide you with light control, energy savings and privacy while offering a gorgeous scene at the window. Discover how to Layer Drapery and create art at the window.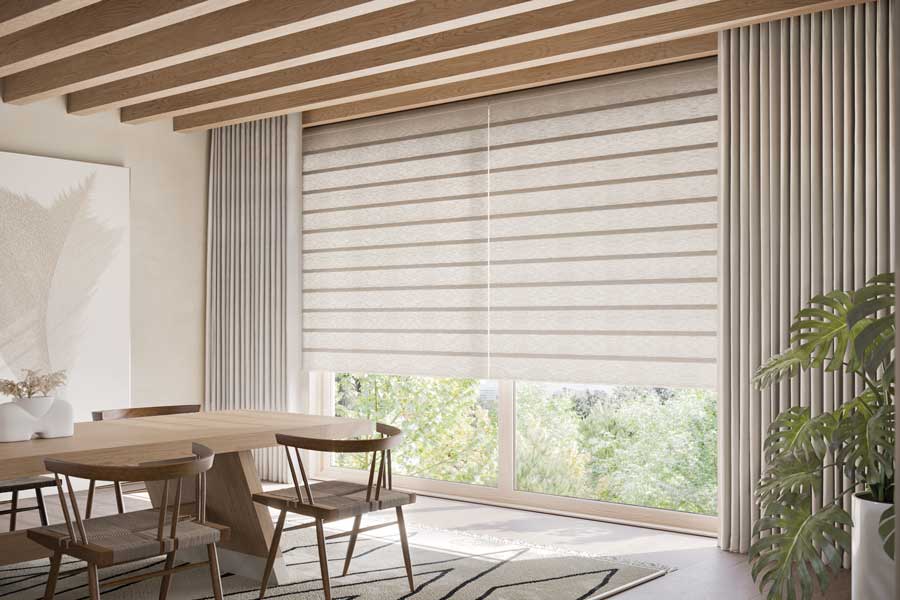 Sustainability 
Something that's on every consumer's mind–and one of the 2023 Window Treatment Trends–this year is sustainability. Companies such as Hunter Douglas offer responsible manufacturing and recycled fabrics to earn your trust. Let's face it, window treatments can be pricey. Homeowners want durable window covering products that provide energy efficiency and insulation for extreme temperatures. Our products offer long-lasting quality and will look incredible in your home for years to come.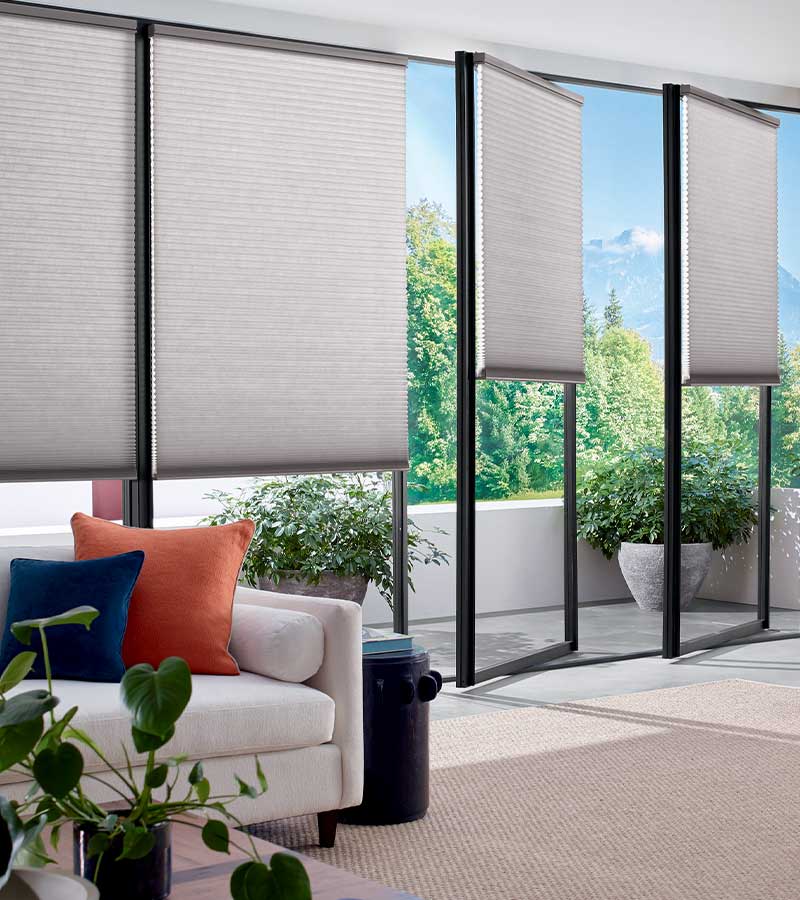 2023 Window Treatment Trends: Choose a Favorite
It's necessary to cover your windows, so why not begin the process by implementing a few of the 2023 Window Treatment Trends we've highlighted today? It's not all about style when it comes to windows, there's more to it. We can help you make the best choices for your home. If it's light control or privacy you need, we've got you covered. Or, if you'd like to see improvement in your energy bills we have a product for that too. Contact us for a FREE consultation, we'd love to make your home look and function the way it should.