Do you have any four legged family members in your house? Pets become such a part of the family, and it's no surprise why. From their endless love, to playful nature, they are always a joy to have around. If you're a pet owner in the market for some new window treatments that will benefit everyone in the family, we can help! We've compiled topics about pet friendly window coverings into one place to get you started.
Keep them Looking New
We understand that along with pets, can come some extra messes. Think drool, muddy paws on rainy days, and endless fur. It can be tricky to keep everything clean. Location is an important factor. Certain spots are at more risk, and identifying those areas will hekp guide your decision. Once you know the more affected areas in your home, you can cater the window treatments in those spots to be easy to clean and durable.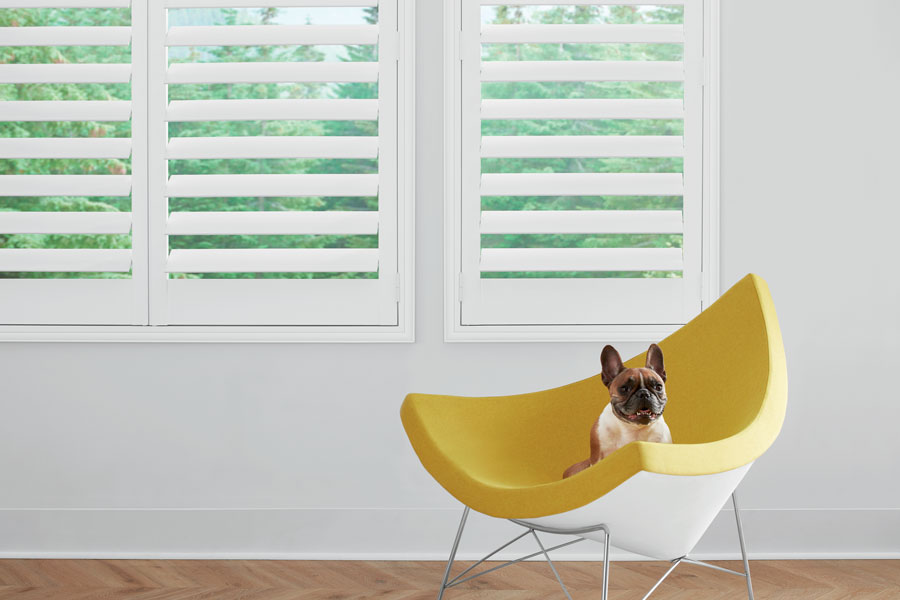 Shutters are a great option for all pet owners! Their durable surface makes them easy to wipe down and their timeless look will last the ages.
Calling All Active Pet Owners
If your pets are the kind who can't get enough of running, jumping, and climbing, we have excellent pet friendly window coverings that will stay out of the way, yet still be functional. Shades that are easy to adjust are great for those areas where pets may jump up or rest on the window sills. Simply raising the shades halfway up allows you to block the glare and hot rays from entering in, but your pets have their view and play spot open. And if everyone is settled in, it's simple to lower them the rest of the way as you need more window coverage for light control or privacy.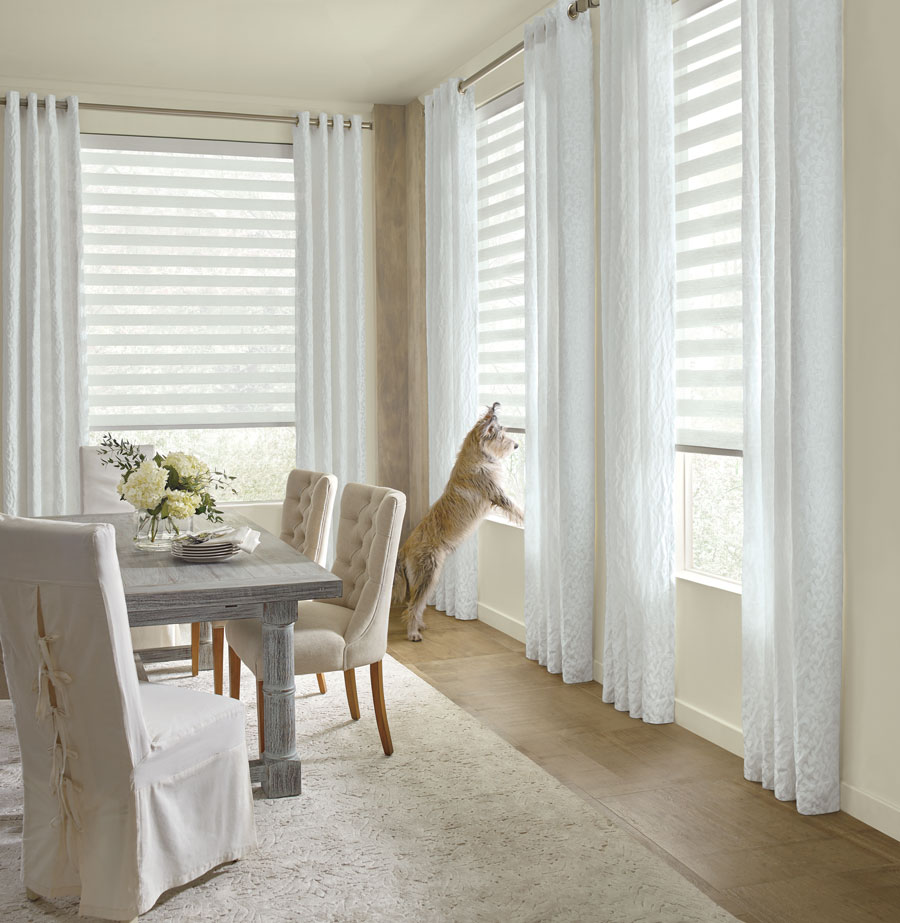 Safety is another one of our priorities. For both children and pets, it's important that there are no temptations around the windows that could become hazards. Cordless window treatments allow you all the function, while maintaining safety. Talk about the best of both worlds.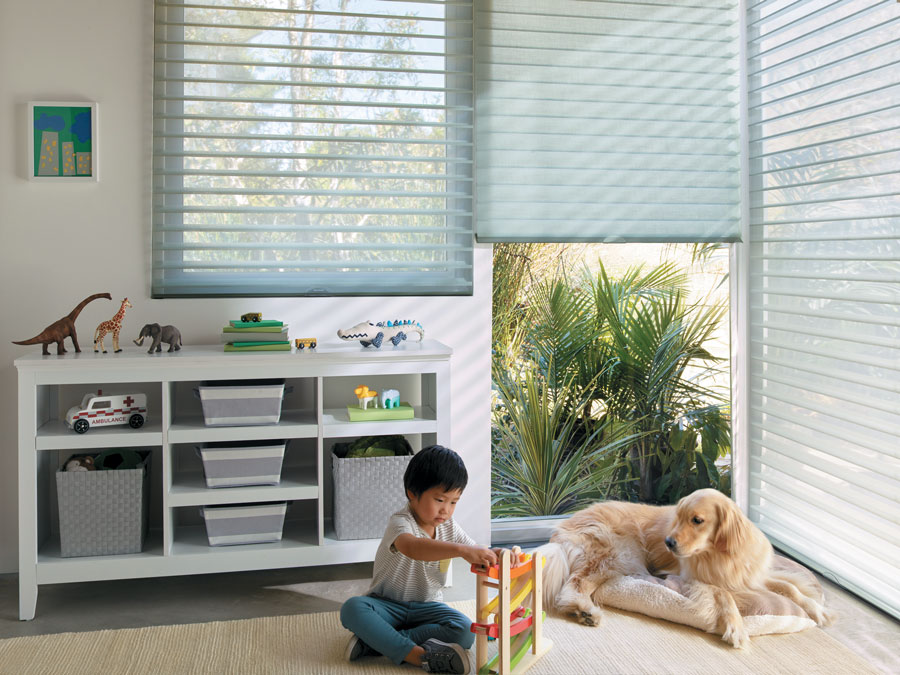 Anxious Pets at Home
Many pets can be a little more on edge once their family is not home. Anxiety in pets can lead to them to act out a bit, such as pawing at windows, chewing items or barking non-stop. Shades that offer view-through capability can be calming to them because they'll be able to see exactly when you're walking back up to the front door.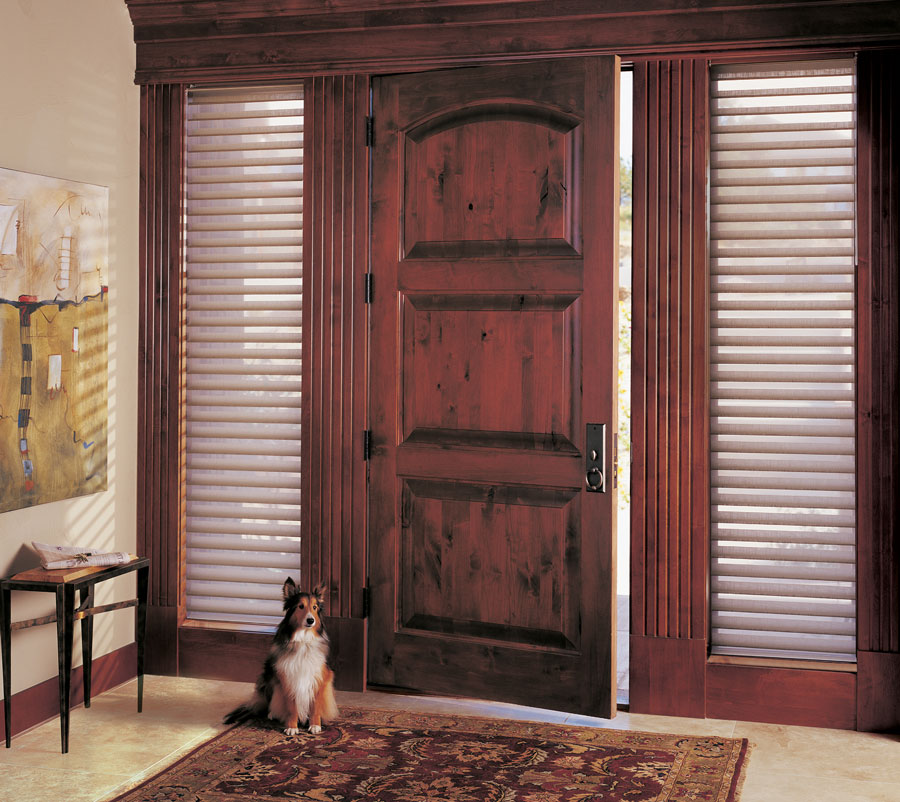 Another suggestion we have for pet friendly window coverings that will help to ease stress but also add major convenience to your day, are automated shades! They are simple to set to your schedule, and then you won't have to remember to adjust all of the shades when you're running out the door. Automated shades allow pets the comfort they have when you're there all day. You can even program them to open as soon as you're turning onto the street to let them know you'll be home soon!
Pet's Love their Naps
We all know that those furry friends of ours gravitate toward warm, sunny spots when they cozy in to take a nap. Chances are, it's always one of the same couple of spots for them! Adding energy efficient shades are a great way to keep their spot sunny while still being able to insulate the rest of the room from the hot summer sun.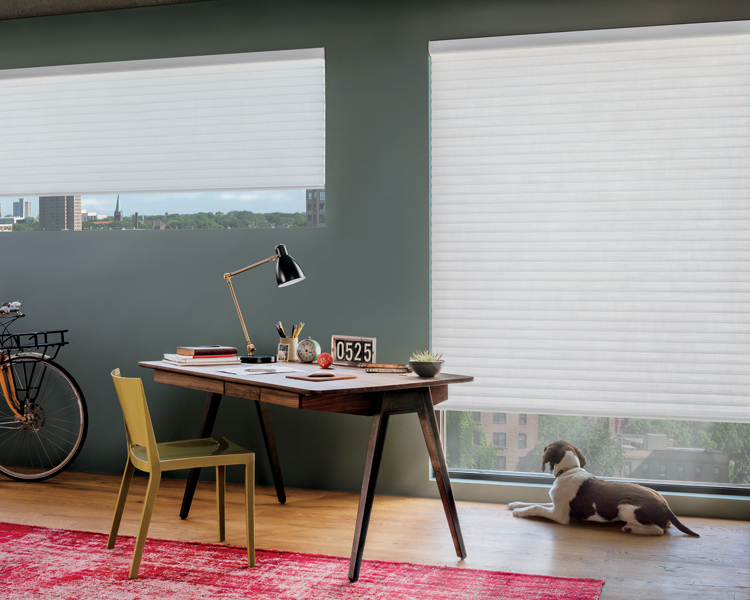 The Pet Friendly Window Coverings that are Right for You
Our team here at Blue Sky Shutters and Shades is here to help you find the pet friendly window coverings that will add function, style, and comfort to your home. The right shades makes it easy to create your desired atmosphere in every space too. Contact us today for your FREE consultation.