Summers in Nevada come with some intense heat!  While most of us prefer sunny days over rainy, the heat can really get to you. How do you escape? Is your Reno area home equipped to handle the high temps this season? Be prepared. Let's explore the best energy efficient window coverings for your home…
The Benefits of Adding Window Treatments
Installing new windows is one of the first things homeowners think of when it comes to the best energy efficient options out there. But, it's not your only option, and it could leave you wanting more. First, replacement windows are costly, and homeowners are still left with many of the same window issues, like intrusive sunshine and uncomfortable glare. Extend the life of your current windows by adding insulating window shades, blinds, draperies or shutters. Window coverings offer some of the best energy efficient solutions, as well as other benefits:
Custom privacy

Improved sleep with room darkening

Glare-free zones

Designer style 

Daylighting

Smart home control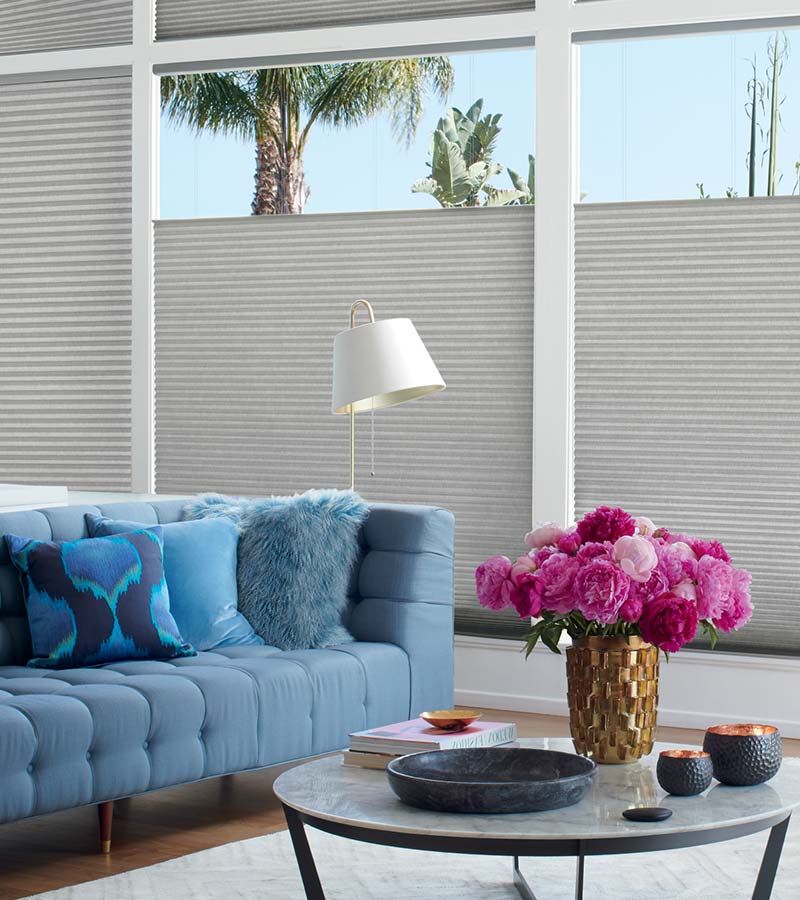 The Features of Energy Efficient Window Coverings
The window covering industry has advanced tremendously-taking advantage of new energy efficient technologies and innovations. Today, many options are available that will increase the comfort, safety and convenience of your home. 
Automation: Smart shades integrate with your smart home technology, for scheduled adjustments or voice command movement in an instant.
Dual Shades: Two shades on the same window for soft lighting & light blocking options.
Top Down: The top of the shade lowers enough to let in light, while the majority of the window is blocked.
Tricky Windows: Tilt & Turn windows, specialty shaped windows or glass doors can feature custom coverings to insulate your home
The Innovative Design
But, how do they work? For starters, we make sure that the best energy efficient window coverings are getting the job done. Here's how.
Insulating Design
For decades, the insulating design of cellular shades has stopped heat at the window. The cellular design was developed to stop air flow-a leading cause of energy loss. Another way to insulate is with interior window channels that guide shades, reduce light gaps and create greater airflow efficiency. 
Excellent Craftsmanship
Today it seems as if everything is created with UV protection in mind- clothing, sunglasses, even window treatments. With the innovation of modern day materials, why not protect ourselves. Keep in mind that the opacity of the fabrics used can have an effect on the energy efficiency provided. So, when treating windows that face the sun directly, choose something with high integrity. Our products are crafted with quality, modern materials that prevent damage and add longevity to your windows. 
Smart Home Control
Is there untapped potential in your home? (Remember those landscape views hiding behind the shades?) If you are too busy to open and close your shades each day, we understand. But, chances are, you are missing out. With smart home solutions, you can acheive the best energy efficiency for your home by scheduling your shades to open and close automatically- blocking the heat from entering and keeping the atmosphere comfortable. No more excuses, open up those shades and enjoy all your home has to offer.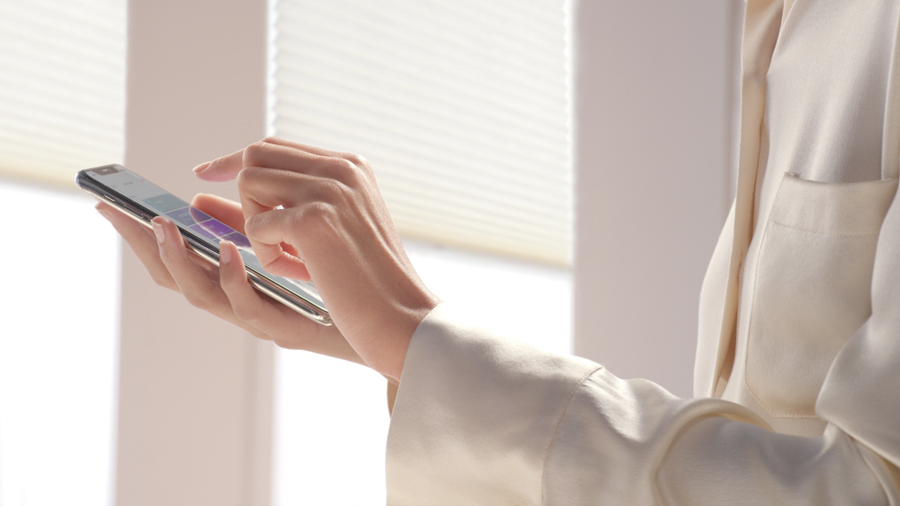 Opinion: What Are the Best Energy Efficient Window Coverings?
For a complete list of window treatments that provide the best energy efficient solutions for any season-visit our energy efficient solutions page.
Your home stays cool in the summer and warm in the winter with the cell-within-a-cell technology of our honeycomb shades. This innovative technology traps air, preventing energy loss. Hunter Douglas offers a range of cellular options to protect your home, let us help you decide what's best for the rooms of your home.
Often used to stop energy from moving, shutters can be made from solid wood to advanced materials. Sealing the window frame, light and heat are prevented from entering. They are an effective way to prevent energy loss. By adjusting the louvers in an upward position, light is directed at the ceiling to illuminate the space without harsh sunshine and heat entering. A popular choice for many clients.
A timeless solution that naturally prevents the movement of air. With cascading fabric at the window, you can achieve the perfect light control with varying degrees of opacity. 
In an innovative move, Hunter Douglas has combined the energy efficiency of cellular shades with the simple operation of roller shades. The Sonnette Collection is transforming homes. In addition, the light blocking technology of roller shades is capable of blocking heat & UV rays. Prevent damage your furnishings and high temperatures. 
Did you know? Today's draperies can be motorized to harness incredible control! Protect your home's interiors. High quality fabrics insulate the windows of your home with light-blocking capabilities. Draperies can also frame the window for beautiful design, closing for privacy when necessary. 
It's that time of year again. Tired of dealing with the intense heat of summer and damaging UV rays? Let's tackle this problem once and for all. We can help evaluate your home and develop a plan to add the best energy efficient solutions to your windows. Get in touch with our designers for a FREE consultation or visit our showroom.