It's that time of year again! Each year, Pantone releases their choices of colors for the upcoming year. And after so much excitement and wait, they're finally here. We absolutely adore next year's color trends and think they're just what we need after 2020. So let's take a look at a few of our favorites…
Classic Pairings with a Twist
Color pairings with an amazing twist to them are a staple when it comes to each year's latest color trends. This is why we love the partnering of two classic favorites, blue and orange, with bright yellow. When it comes to nursery rooms, soft neutrals are usually the go-to. But with these lively colors, you get a bright and stunning room.
Blue, Blue, Blue, and Even More Blue!
Last year's Classic Blue was both stunning and dynamic. We've seen it everywhere from kitchens, to bathrooms, and even bedrooms. This is why we're so excited to announce that in 2021, blues are still in! But with a new year, comes new ways of designing. While we love having a staple color to make a room pop, as shown in the picture below, using different shades of the same color can have a range of effect. By pairing the soft blue patterned roman shades with the solid, dark drapery panels you get a subtle, but beautiful contrast. And with the splash of bright pinkm this room is easily topping the style charts.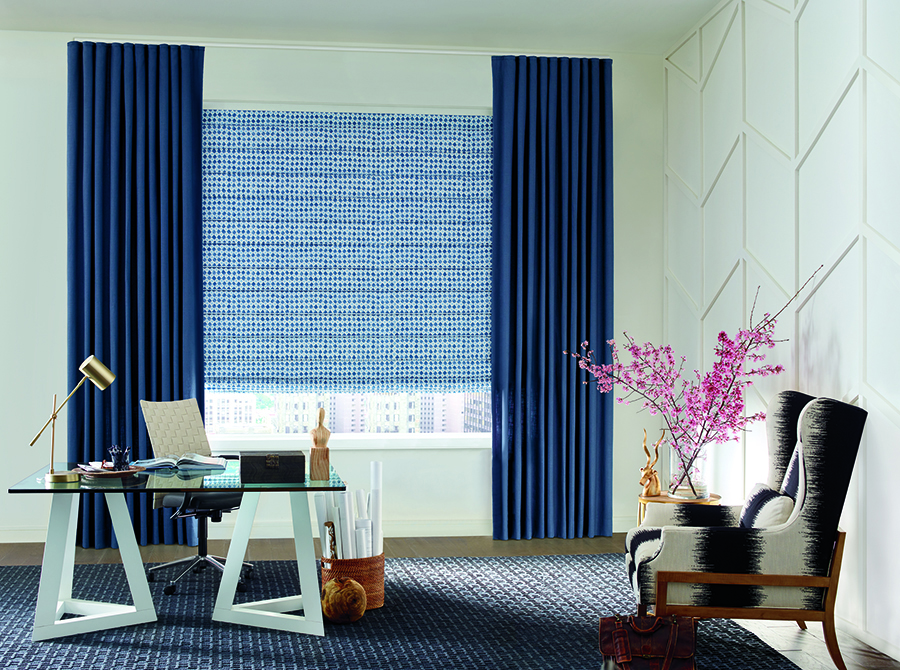 New Year, New Office
Since the beginning of this year, we've been spending more time at home than planned. After a while, the same couple of rooms start to feel more and more bland and boring. So switch it up in the new year and revamp your home office. You want a space that is going to get you amped up and ready to work, not one that's going to make you drag your feet and fall asleep during your meetings.  So, take a look at the latest color trends like the one below to get you started on your design path.
We're Here to Help!
With this crazy year almost at an end, it's good to get excited about all the great things 2021 might bring. Our team here at Blue Sky Shutters & Shades is excited to continue to help you make the most out of your space in the upcoming year. Whether it's with incorporating color trends into your space with window treatments, or simply helping you solve issues that your home faces from uncontrolled light, contact our team today for your FREE design consultation.