A three-season room, a sunroom, or an enclosed patio…no matter what your family calls it, it's probably a popular space. Be part of nature, enjoy the quiet & calm…these extra rooms are generally associated with relaxation. But, what do you do when your sunroom windows get in the way of your sanctuary-like vibe? Can you cover what you don't like without messing up what you do? We think so! Take a look at some of the most popular ways homeowners use window coverings in these specialty spaces…
Fabric Romans
Roman shades are a classic when it comes to coverings. And, what better way to bring personality to the design of your home than with playful patterned fabrics? Of course, these sunroom windows offer immense amounts of light–from the walls and ceiling. So, covering the sides doesn't block the space from natural light. It does add privacy while blocking direct rays, which might be just what you need to create your very own haven.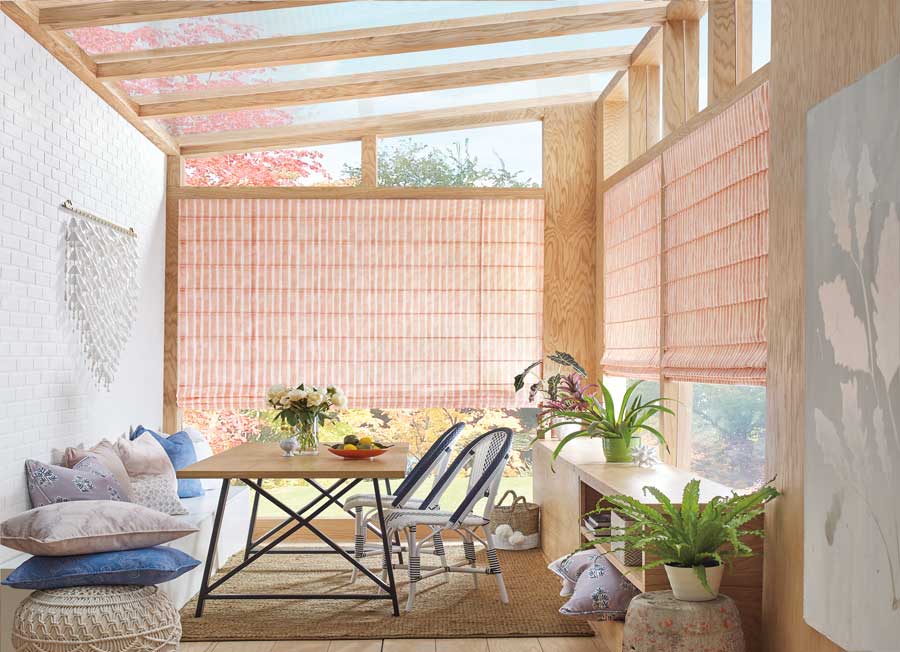 Honeycomb Shades
People who live in glass houses? They shouldn't throw stones–but, they SHOULD have really good window coverings! If your patio is enclosed in all glass, you know how hot it can get in the summertime. Honeycomb shades can help you enjoy your space, no matter the season, as the cellular structure insulates the windows. With light filtering fabrics, you can have lots of natural light without the exhausting heat.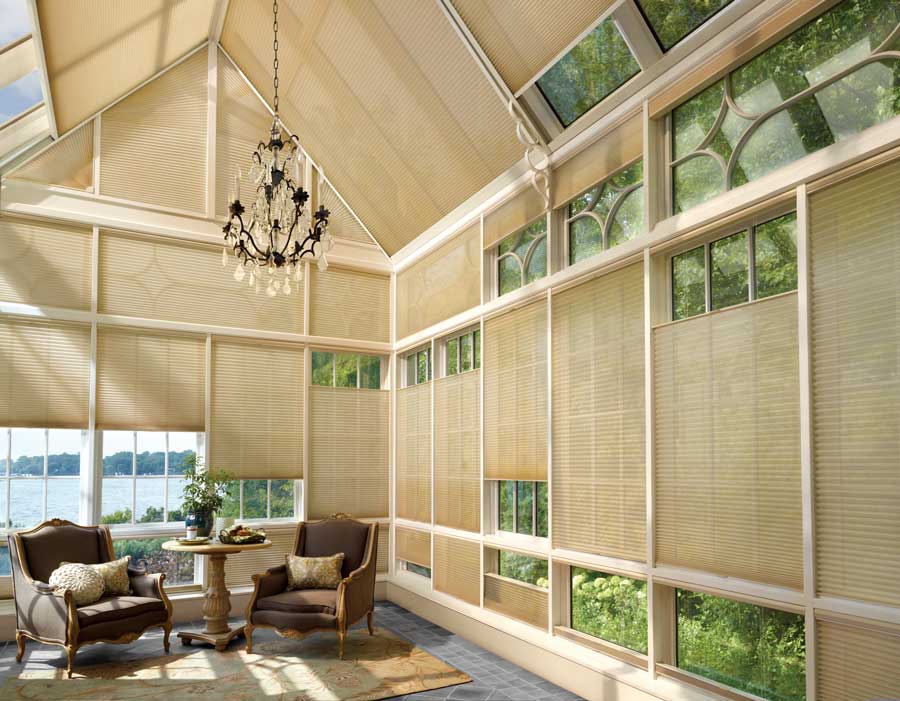 Sheer Shades
In addition to letting in lots of natural light, your sunroom windows show off amazing views of the landscape. It can be tempting to keep them bare for that reason alone! But, keeping them bare can let in too much light. Even on cloudy days, the excessive lighting will fill the space with glare. Add sheer shades into rooms with a view and you'll have them doing double duty: reduce the glare and enhance the view. With light filtering sheers, the fabrics make the view that much more enjoyable.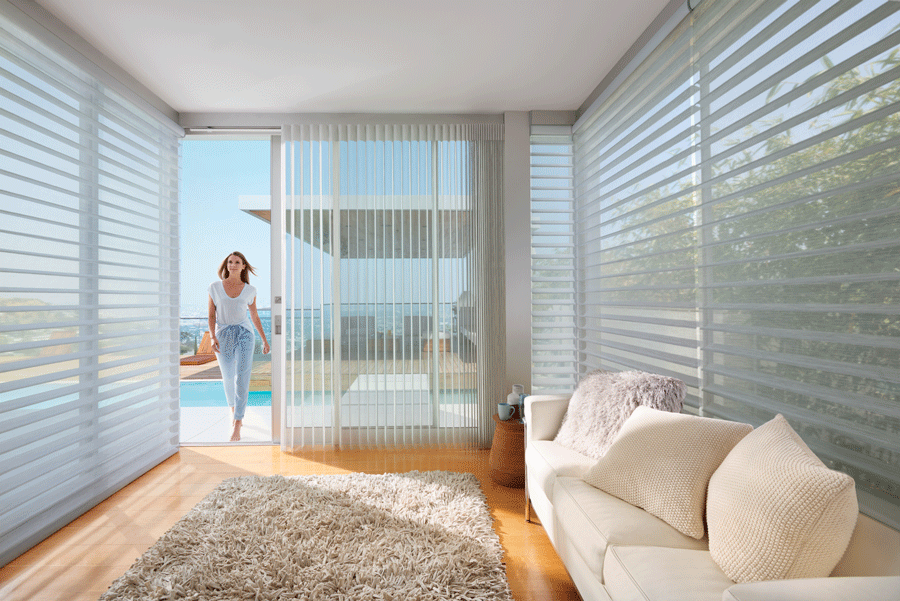 What About the View In?
Have you considered sheer shades, but found yourself wondering, "What can you see from the outside?" Sheers tend to reflect the light during the day, so there isn't a view into the space. At night, however, with a light on inside, it's easy to see in. For added privacy, the vanes just have to be closed up.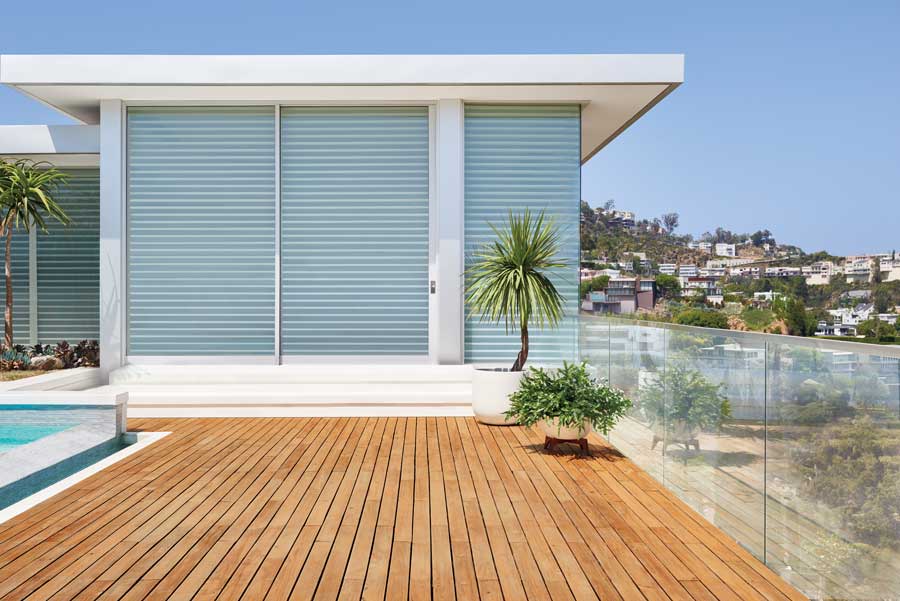 Cellular + Roller in ONE
Lots of homeowners love roller shades for sunroom windows. But, unless you choose a blackout fabric, you might still experience high temperatures. One of the newest innovations is the combination of roller shades with cellular shades. The cellular pockets act to insulate, while the shade rolls up and out of the way when you need it to.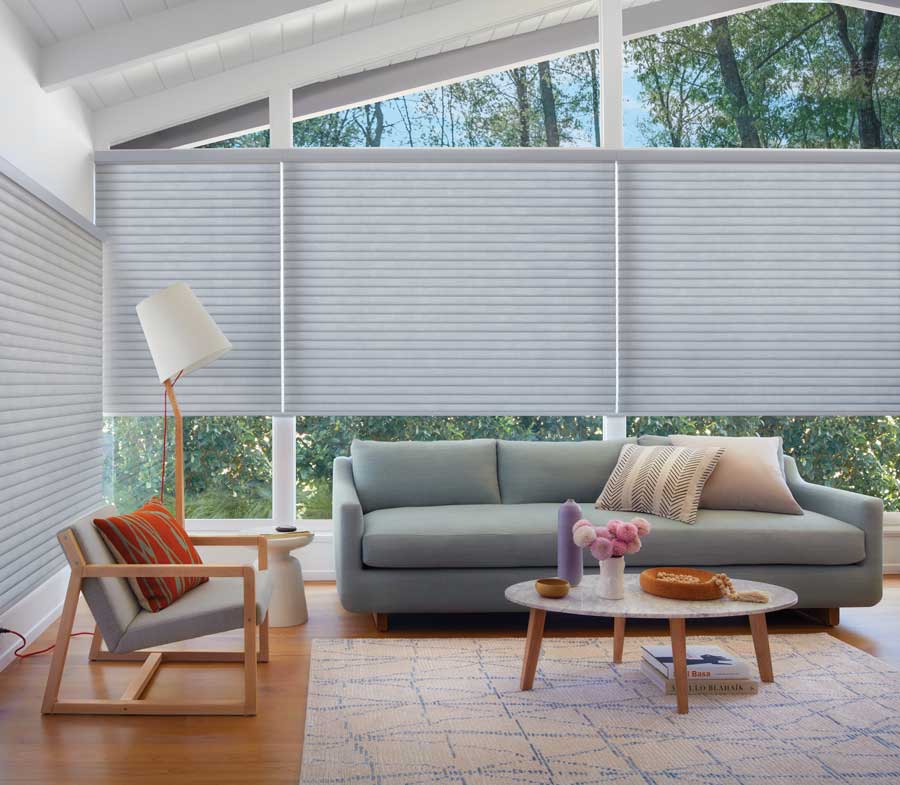 Plantation Shutters
There's just nothing quite as timeless as plantation shutters, right? Consistently beautiful, elegant and incredibly durable, these window treatments cover sunroom windows with balanced light and effortless adjustments.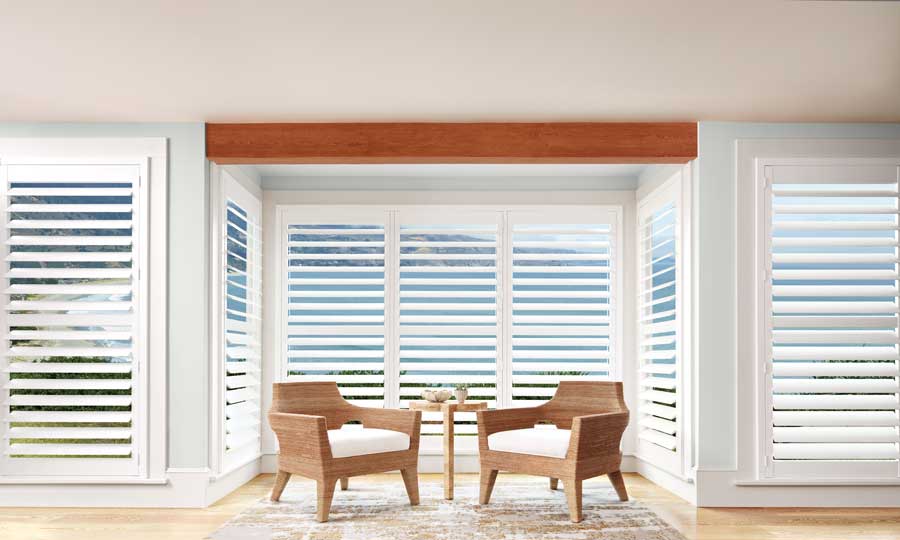 Need More Ideas?
Invite us over! We would love to visit your home for a free consultation. We can take a look at your sunroom or three season room to give you ideas and advice on what would work best. Get in touch with the team at Blue Sky Shutters & Shades today!