As we all know, windows come in sizes and styles. Each one is a canvas for your interior design aspirations. If you're searching for the best large window covering ideas, you've landed in the right space. These big windows are a visual feast, bringing in a ton of natural light to illuminate the rooms in your home. Yet, their grandeur can be a headache at times. You may find yourself asking, "Which window blinds or shades can put an end to the glare and copious amounts of sunlight?" Alternatively, you might want to elevate your home's atmosphere with added functionality and style. Rest assured, the team at Blue Sky Shutters & Shades has the answers and stands ready to guide you toward finding the ideal window coverings for your home.
Bear in mind that sizing specifics may vary based on your windows' characteristics, including features and the fabric you select.
Regulating Intense Heat and Sunlight
When sunlight graces your windows, it can easily raise the temperature in your home, particularly when those windows stretch from floor to ceiling. Escaping the blinding brilliance of the sun and excessive heat becomes a priority. As you start to explore large window covering ideas, it becomes imperative to acknowledge these challenges and seek effective solutions. Let's start with our first suggestion.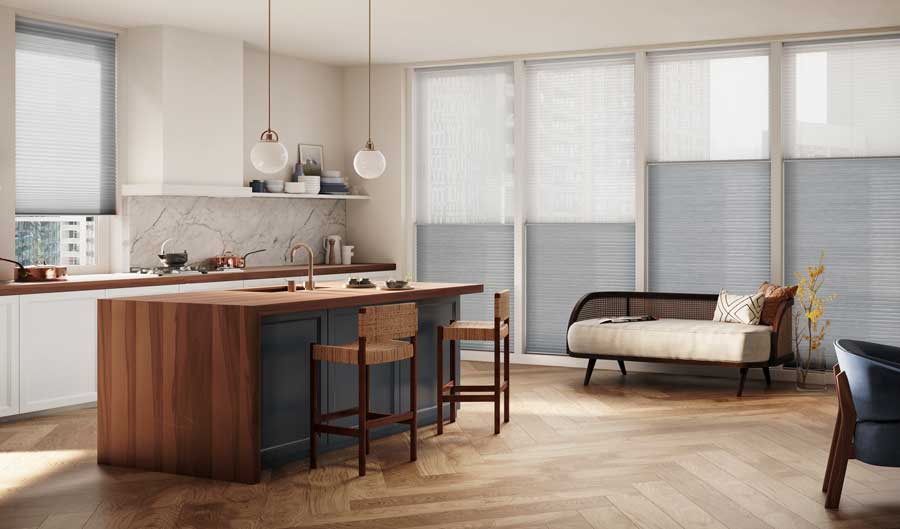 Honeycomb shades are an excellent choice if you are looking to conceal your expansive windows. They do a phenomenal job at regulating temperature, and insulating your space while allowing soft light to enter your home. Similarly, cellular shades are another great contender. If you aren't familiar with cellular shades, they are renowned for their versatility and ability to easily address a multitude of concerns. These coverings are available in both horizontal and vertical orientations. This ensures that you have consistency across the rooms in your home that have both windows and doors that you wish to cover.
For horizontal windows, these shades can gracefully span up to 14 feet in width and 12 feet in height, while for vertical windows, they capably cover expanses of up to 28 feet in width and 10 feet in height.
The Importance of Privacy
Obviously, there are many reasons why we decided to buy a house. The size, the area, and the views outside are just a few examples. As you enjoy the views outside, it does come at a cost if you have large windows. You lose privacy. It'll have you wondering if the views are truly worth the compromise. 
Let's discuss the power of sheer shades. They are an elegant solution that enables you to relish your surroundings while protecting your personal space. Explore large window covering ideas that expertly balance showcasing your views with preserving your privacy.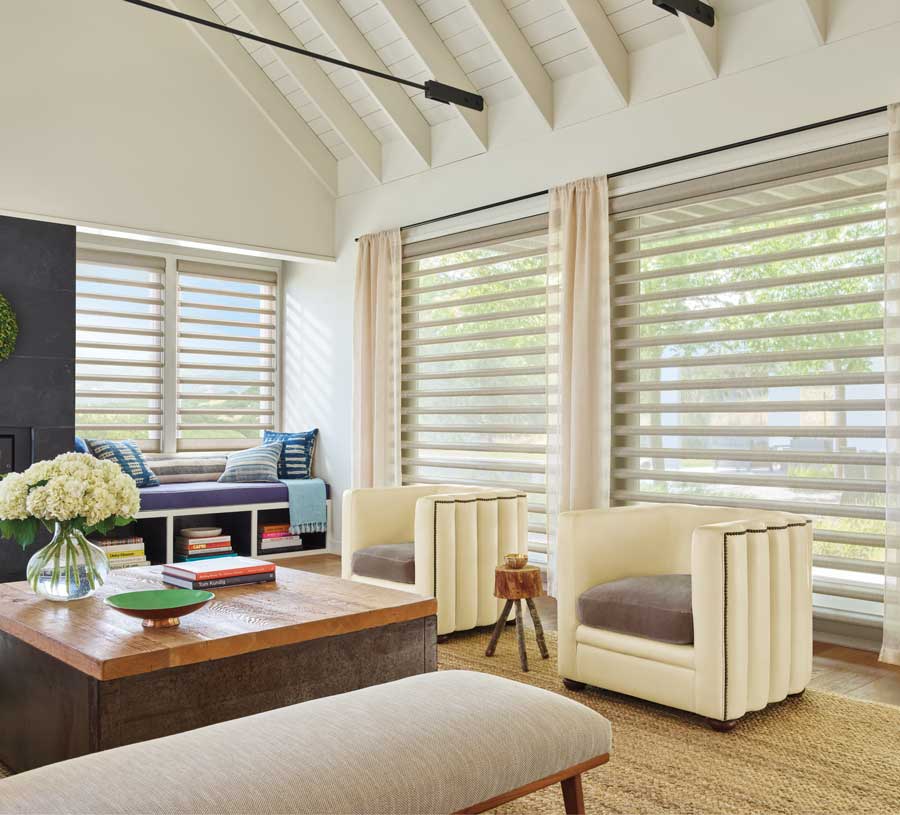 Among the options available, pirouette shades are phenomenal. They have a dual shade functionality that transitions between highlighting your scenic views, providing privacy, or discreetly receding into the background. With their sheer backing fabric, they invite filtered sunlight to enter your home's interior while maintaining privacy from the outside world. When the vanes close in place, room darkening is easily achieved.
For horizontal windows, these shades can elegantly span up to 12 feet in width and 12 feet in height.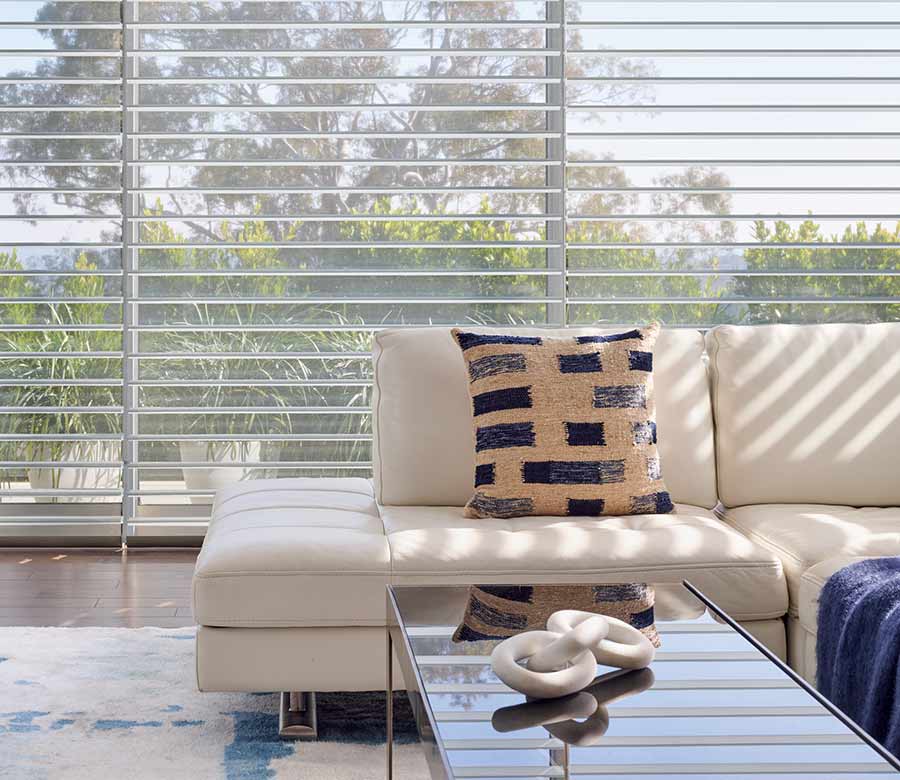 For those seeking an alternative to pirouette shades, consider silhouette shades. Although they do not fold in place, they still have a lot to offer. Their fabric vanes tilt gracefully, creating an interplay between sheer fabrics that showcase unobstructed views that feature soft light. Notably, a dual shade feature adds versatility. This grants homeowners control over the level of light filtration. In a moment, you can go from a gentle glow to a completely dark room.
For horizontal windows, the maximum dimensions extend up to 12 feet in width and 11+ feet in height.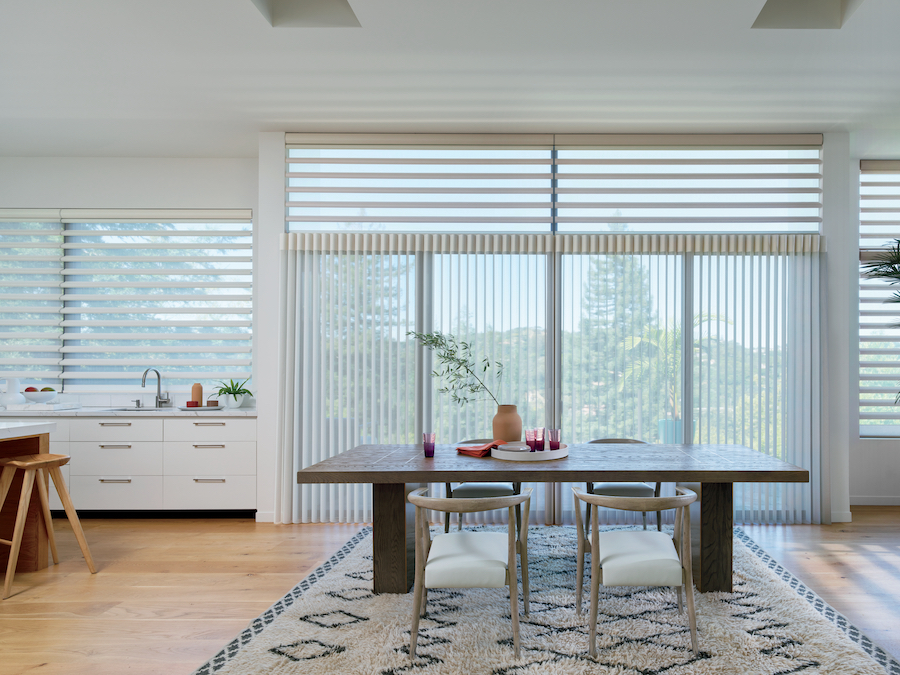 Comparatively, luminette privacy sheers are within the realm of Silhouette shades. These stand out because they have a vertical orientation. The solid vanes pivot to offer sheer views or can be firmly closed to regulate light. By adjusting the vanes, you quickly gain total privacy while darkening the room.  
For both windows and doors, the vertical maximum measurements extend up to 16 feet in width and 10 feet in height.
Elevating Your Design
Unquestionably, the grandeur of your home's largest windows plays a key role in shaping the overall look and feel. Roman shades, adorned with cascading fabrics, introduce an aesthetic that harmonizes seamlessly with your room's color palette. Our roman shade collections are a treasure trove of inspiration. As you explore window covering ideas, you may find that roman shades are just the ticket.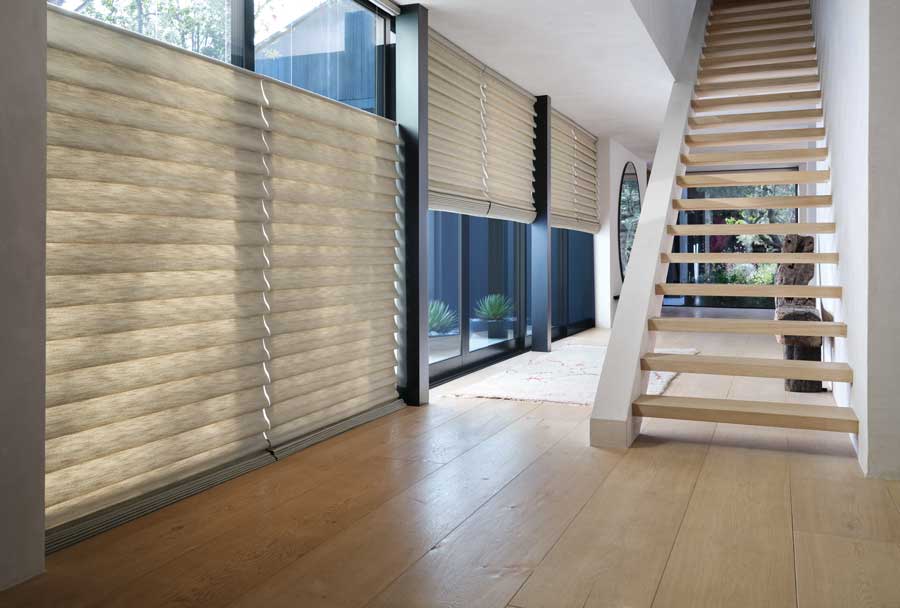 Now, if you are looking for a solution that elegantly marries style, privacy, and light control for those endlessly tall floor-to-ceiling windows, consider vignette modern roman shades. You will be able to manage incoming light while shielding your interiors from the sun's rays. The best part is that you can do all of this while enjoying an unobstructed view or full privacy. 
For horizontal windows, these shades can elegantly span up to 11+ feet in width and 12 feet in height.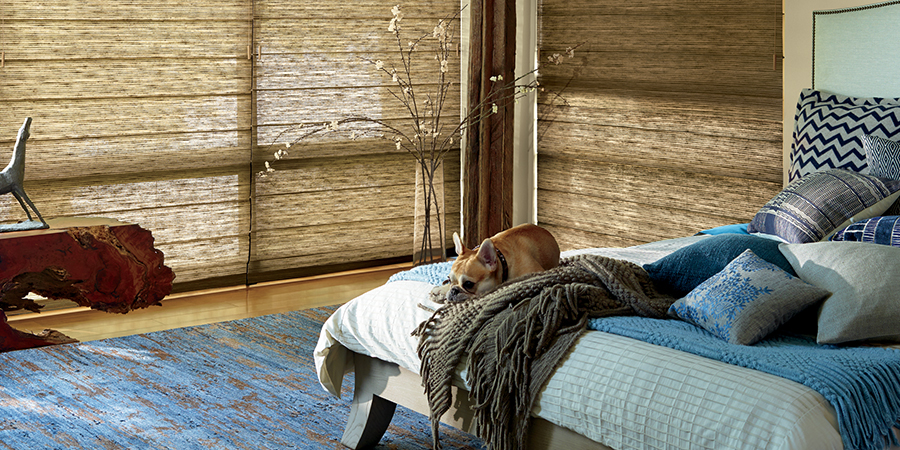 Alternatively, Provenance Woven Woods emerges as a great option if you seek to infuse texture into windows of any dimension within your home. Provenance woven woods are crafted from woven materials. They have the remarkable ability to filter light while preserving your privacy. A high point for these is that they are versatile so the color palette complements your existing decor. Lastly, the inclusion of a top-down and dual shade feature allows you to tailor your atmosphere to your liking.
For horizontal windows, these shades can span up to 12 feet wide, 16 feet tall.
For both windows and doors, the vertical maximum measurements extend up to 9 feet wide, 9+ feet tall.
Achieving a Low-Profile Atmosphere
As you look for large window covering ideas, you'll discover that there is no definitive right or wrong choice. Your selection should align with what best suits your space and style.
When contemplating how to best cover your large windows, elemental exposure may be at the forefront of your mind. Solar shades are a great solution for this. They remove excessive light and glare. Thus, providing you with UV protection.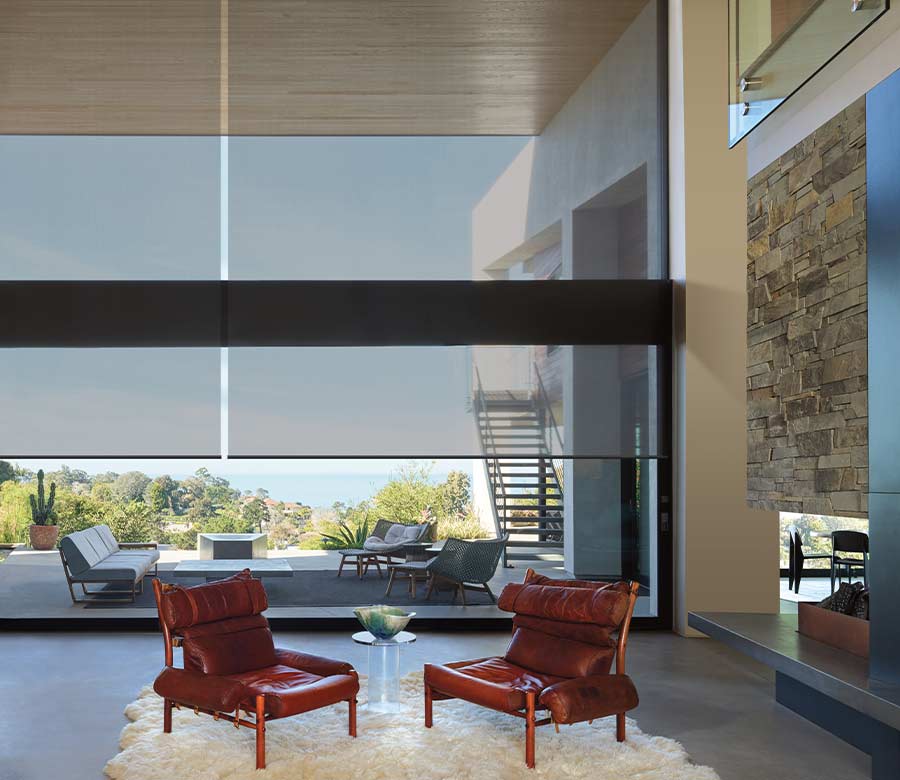 Not only will this provide comfort and serenity in your space but it will keep your furniture and your floors in great shape. Furthermore, these shades offer a range of enhancements. If you wish, you can add smart features and dual shades. This will grant you greater control over lighting.
For horizontal windows, the dimensions can extend up to an impressive 16 feet in width and 12 feet in height.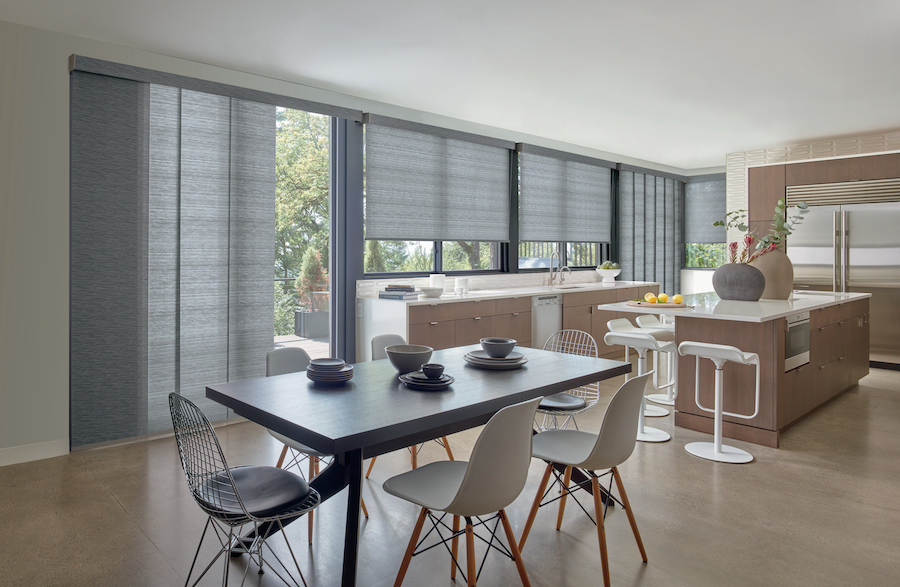 If you want to explore different vertical options, the skyline gliding window panels are an ideal choice, offering great coverage for both doors and windows. Many homeowners opt to harmonize their fabric choices between these panels and roller shades. 
For both windows and doors, the vertical maximum measurements extend up to 32 feet wide, 14 feet tall.
Searching for Further Inspiration?
Our team of skilled window-covering designers at Blue Sky Shutters & Shades is brimming with creative ideas and is ready to share them with you! Contact us today to schedule a FREE consultation and let's get started on those large window covering ideas.