If you keep up-to-date with the latest trends in interior design, you have most likely heard of minimalist design. Those at Houzz are offering their review of the newest book to hit the market, guiding us toward uncluttered and uncomplicated spaces. Regarding the atmosphere you create in your home, it is essential to remember the crucial role of window coverings. Let's dive in to see how you can pair window coverings with a minimalist design!
Cords
Take a moment and look at your window coverings. Do you see those lengthy, dangling cords that accompany conventional window treatments? Well, they pose a potential hazard to your pets and your children. If you choose to remove these cords, you are introducing a level of organization and neatness that your house doesn't already have. An added benefit is that it offers the advantage of providing you with some peace of mind if your kids or pets are spending time in this space.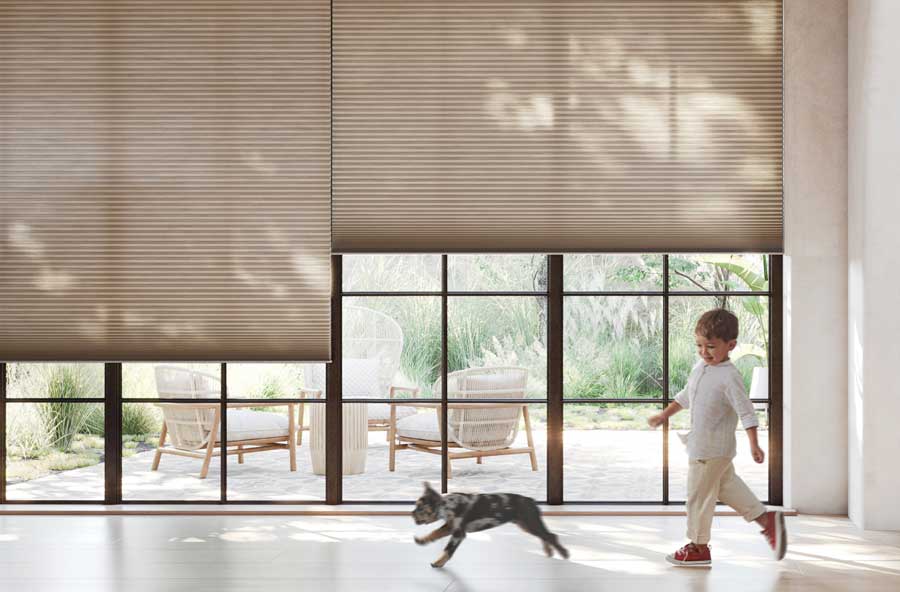 Blending
Embracing minimalist design might tempt you to forego window coverings altogether. However, it actually exposes your space to excessive UV rays and sunlight. To stop the hard light from flooding in, we simply suggest choosing fabrics that merge effortlessly with your wall's color scheme. This will create a holistic look in your home.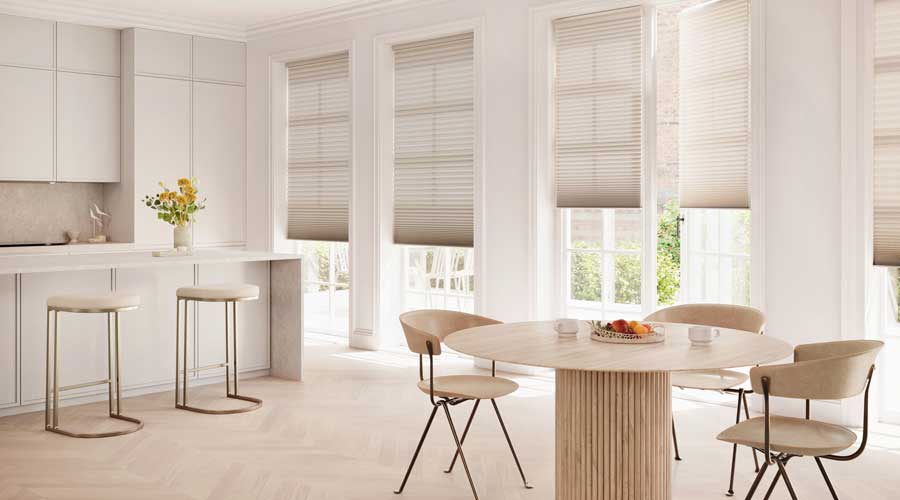 Rolling
As you explore window covering options, you might visualize treatments that gracefully drape alongside your windows, imparting an unforgettable touch to any room. But, when they ascend back into position, you may experience some frustration. The fabric could bunch together and overlap, creating an unappealing look to your space. No need to worry! There is a wide array of rolling mechanisms that exist to help you out of this situation.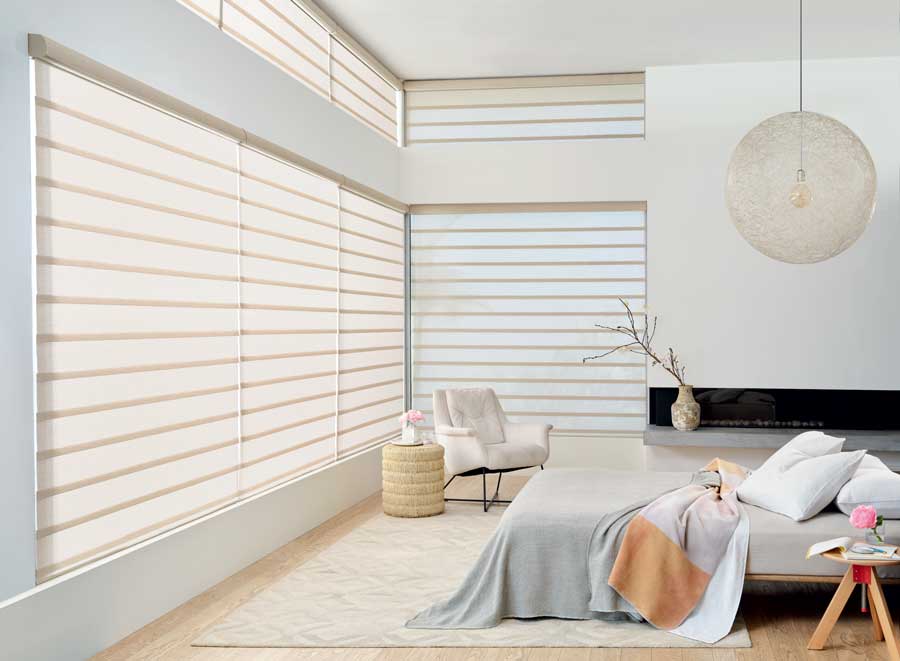 There are many options available with our variety of roller shades. The reimagined Roman shades now have rolling mechanisms. Even cellular shades have joined the ranks, effortlessly rising and disappearing into the headrail, leaving behind a canvas of sleekness.
Low Profile
The minimalist design that has gained prominence in recent years accentuates a streamlined, low-profile appearance. Even the headrail can now be customized to your preference, with a modern look that echoes your style. Choosing the ideal window appearance is an art. Fortunately, our team at Blue Sky Shutters & Shades is ready to support you. With a myriad of collections that champion a minimalist design, we're prepared to find the best window coverings for your space.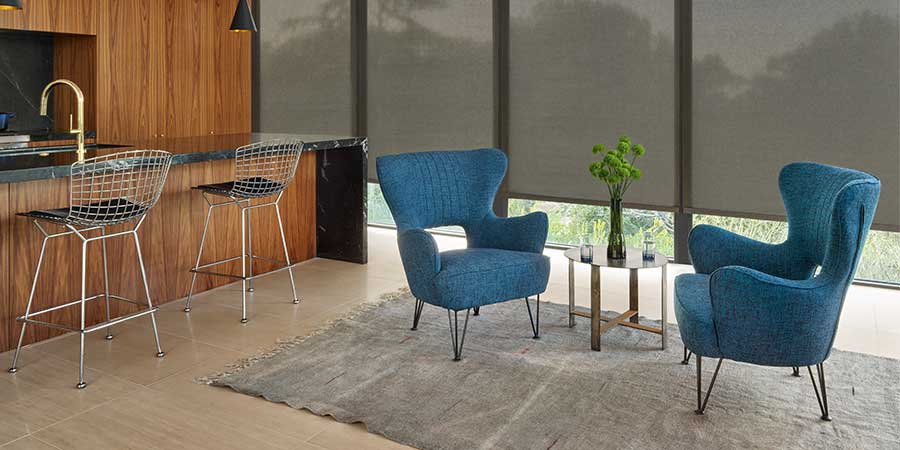 Motorization
Did you know that you can easily pair the need for window coverings with your desire for a minimalist design? With a mere touch of a button, a voice directive, or a smartphone application, you can unveil or conceal your window shades. Automation helps you to easily control your window coverings.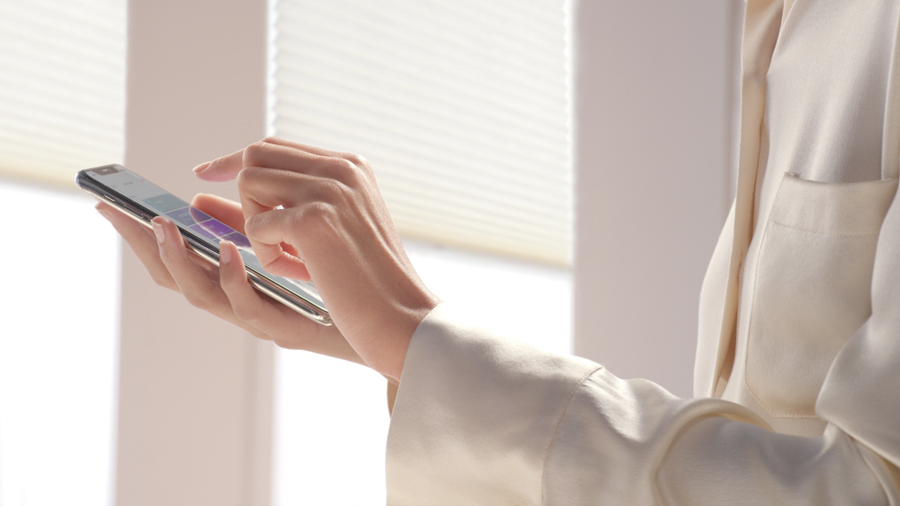 Incorporating a Minimalist Design
If you're prepared to infuse minimalist design into your home, look no further than Blue Sky Shutters & Shades. Our team is standing by eager to introduce you to minimalist design. Contact our team today to schedule a FREE consultation!