Our range of window treatments is seemingly endless. And, while we love each and every one of them, we can't get over the Pirouette window shades. Not only do they come with amazing features, but they also easily transform your room into a stunning sight. Don't believe us? Let's take a look! 
Pick The Way You See Your View
Recently, a new enhancement was added to the Pirouette collection. Now, you can choose between a clear, crisp view or a soft, filtered fabric. That sharp view is Clearview®, featuring a black sheer fabric. It allows you to get an even more vibrant and defined view.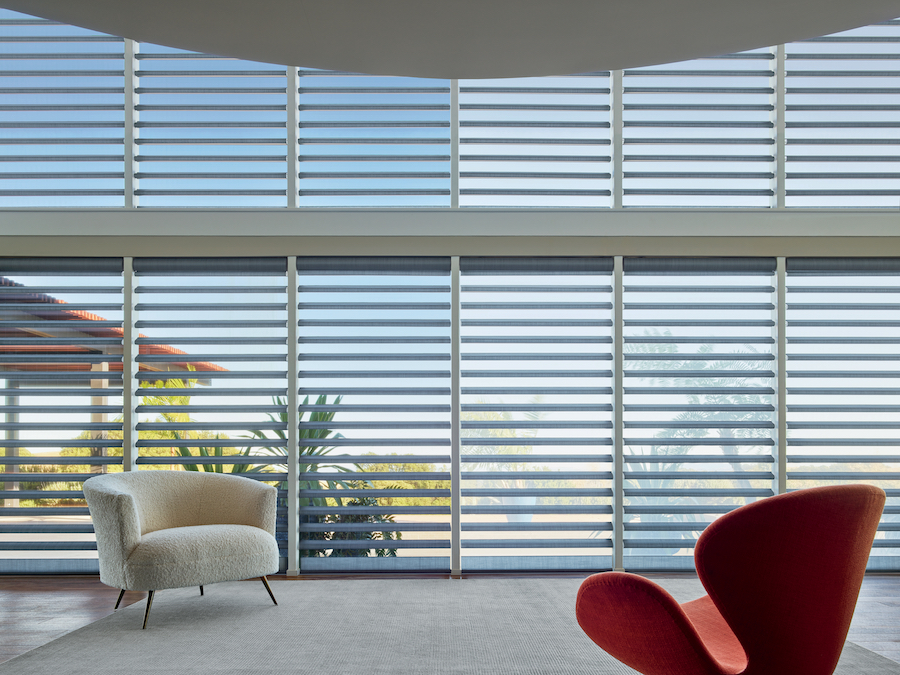 Here, you can see the comparisons between both fabrics to help decide which one is right for you. On the left is Clearview®. And on the right is the original sheer fabric. While both are amazing and flawlessly transform the natural lighting, you get to choose your favorite!
Maintain Your Aesthetic
Maintaining the overall look and feel of the home is one of the main concerns our clients have when it comes to window treatments. And, we understand why! Creating your perfect aesthetic isn't easy. This is why, when helping you pick the perfect window covering for you, our team takes into consideration your floor plan, style, and function of each window.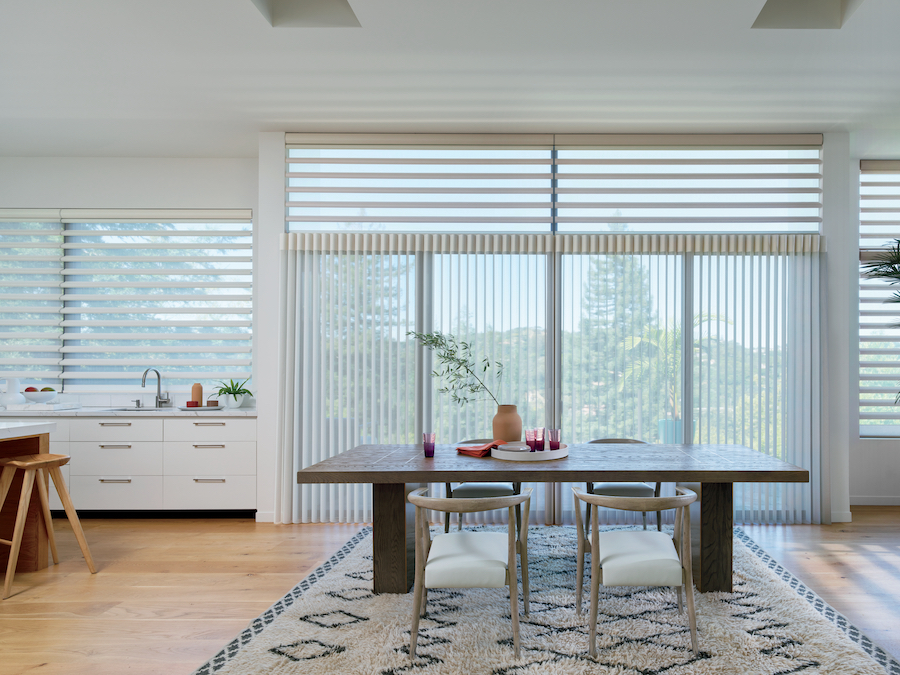 We understand that when it comes to window treatments, what works for one window (or door!) might not work for the other. Which is what makes our products so amazing. You can easily pick from different collections in order to get different treatments, while still keeping a consistent look. And, with the added benefit of UV protection (your sheers will block 81% of the UV rays, and 99% when closed), what's there not to love?
Covering Large Windows Has Never Been Easier
Large windows are an amazing addition to any home. But they can also cause issues like lack of sun control and privacy. Well, with the Pirouette, that's no longer an issue. These shades are perfectly designed for large windows. You don't have to open or close the entire shade to let in light. It's as simple as adjusting the vanes.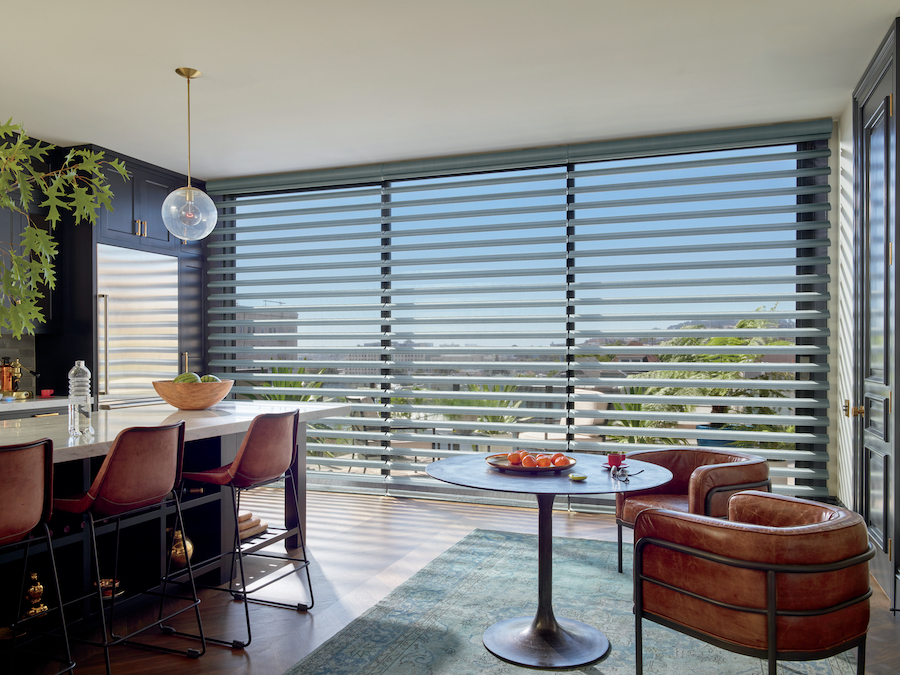 Worried they won't be big enough to cover your entire window? Don't be! The Pirouette can be made as large as 144 inches by 144 inches, allowing for easy floor to ceiling window coverage. If that's still not wide enough, you can use multiple Pirouettes. Just take a look at this wall of windows. While there are separate shades, they cross seamlessly allowing for a flawless look. 
Choose Your Control
The verdict is in, and our clients have decided that automation is perfect for them! Easily control the vanes of your Pirouettes, and the entire shade, with a tap on your smart device or remote. Or, with the SoftTouch™ system, you can have motorized control of an individual window with a simple wand.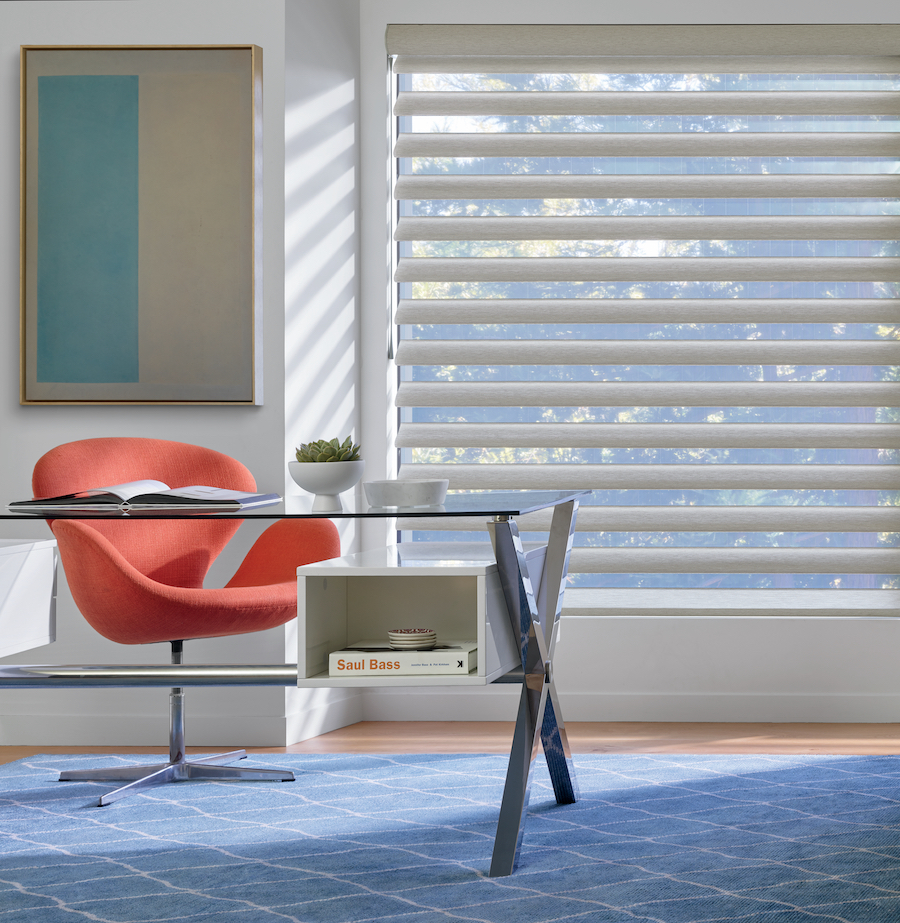 While motorization is a favorite, there are times when a cord is all you need. Pick from two child-safe options available for the Pirouette: Ultraglide and EasyRise. Ultraglide is a short, retractable cord. And EasyRise is a continuous cord loop, secured in place at the edge of the window frame. 
The Pirouette shade we offer seemingly has a solution for everything in your home. Which is why we love them so much! If you're interested in these shades, or any other shades we offer, contact our team at Blue Sky Shutters and Shades today for your FREE design consultation.