Chances are you're stepping into your bathroom multiple times a day. So why is it that design gets completely thrown out the window in that space? Here at Blue Sky Shutters and Shades, we believe that each space in a home should be functional and personally appealing. Whatever your style is, there are no doubts that bathroom features need to serve a few functions: privacy, light control, and convenience to name a few. That's where we come in with window treatments!
The Best of Both Worlds
Ensuring privacy in a bathroom is key… and so is light control! With the right window treatments, you can marry both of those bathroom features to keep your space feeling comfortable all times of day.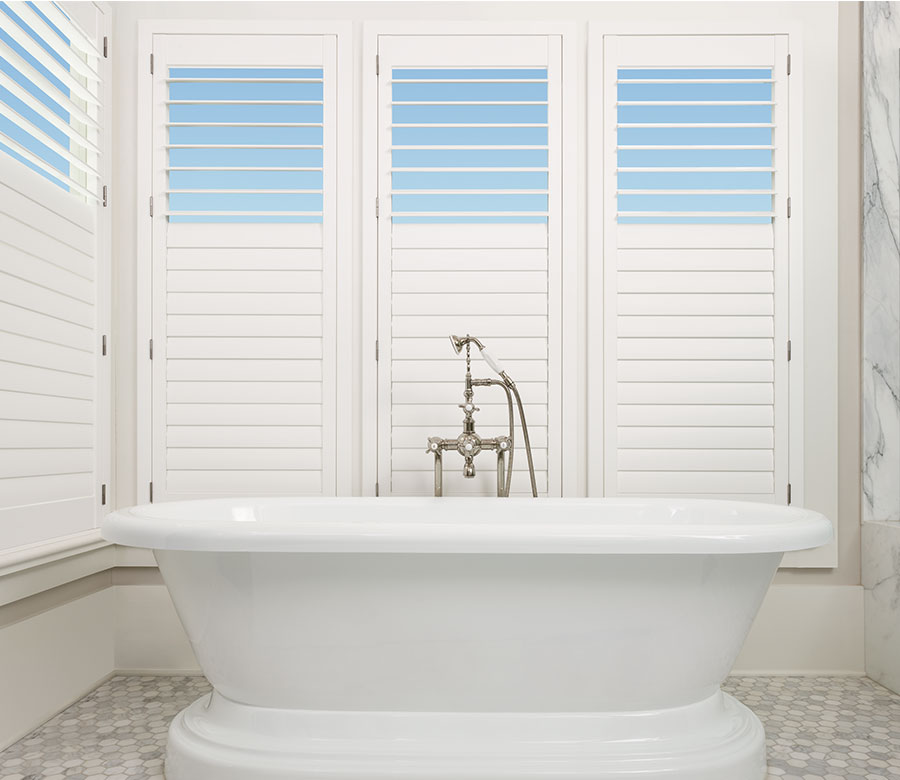 Top down bottom up treatments are one of our top recommendations for bathroom window coverings. They allow for the natural light to flow in toward the top of the room, but keep things secure at the bottom so you never have to worry about the neighbors seeing anything. Love the shutters in the photo above? That's the split tilt feature with automated shutters–a definite favorite in Reno area homes!
Focusing on Window Direction
Window direction is another key factor to keep in mind when choosing exactly which shades, shutters, or blinds you would like in your space. Depending on if you're seeing the rising sun poking through, or if the hot afternoon rays pour into your bathroom windows for hours on end, that may help you decide which treatments would be ideal for your space.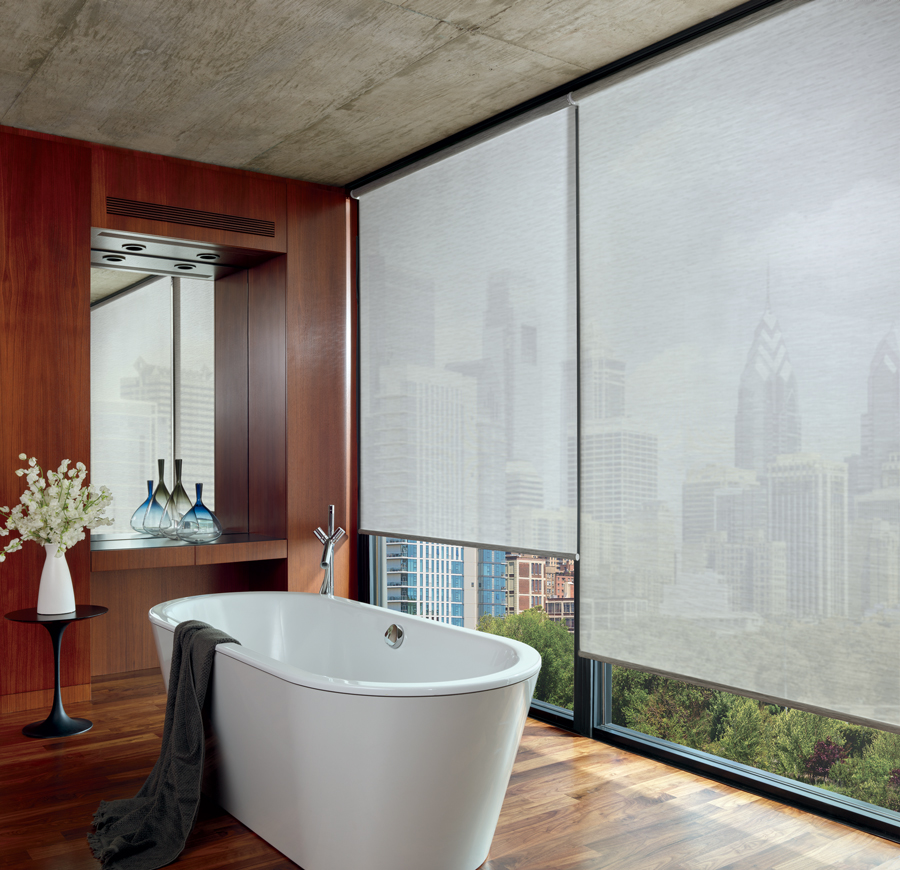 With help from our experts, you can have shades that will ensure: privacy, protection from UV rays, light control, convenience, and more!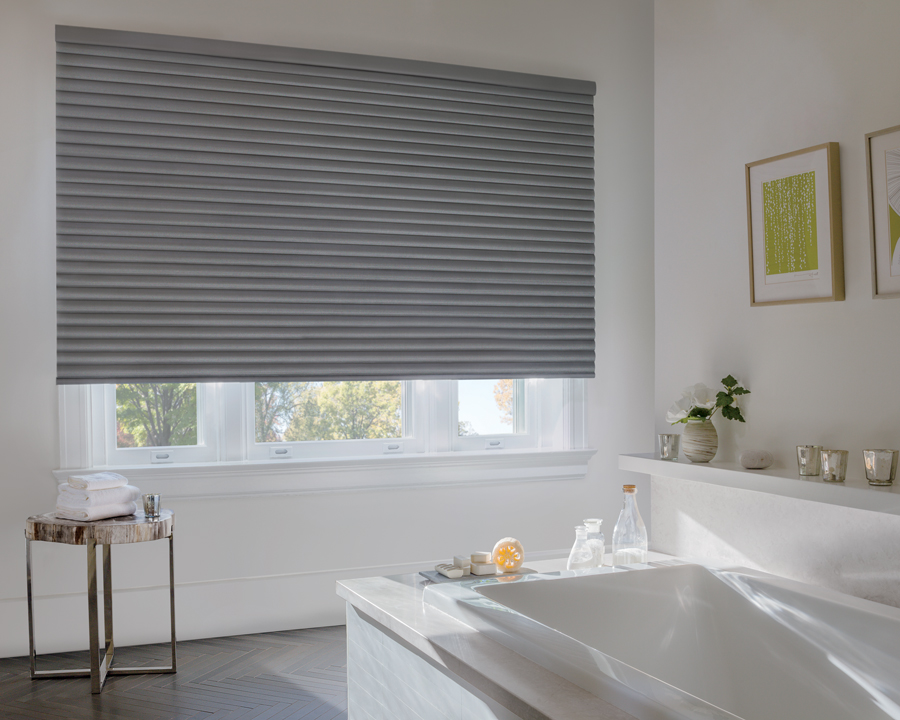 Outfitting Large Windows
Those floor to ceiling or wall to wall windows are surely picturesque. However, especially in bathrooms, they require some coverage to keep privacy and security a priority. Notice how the right shade can become a stunning backdrop and piece of art as well? This is your chance to pick a treatment you love that will serve the space aesthetically and you functionally.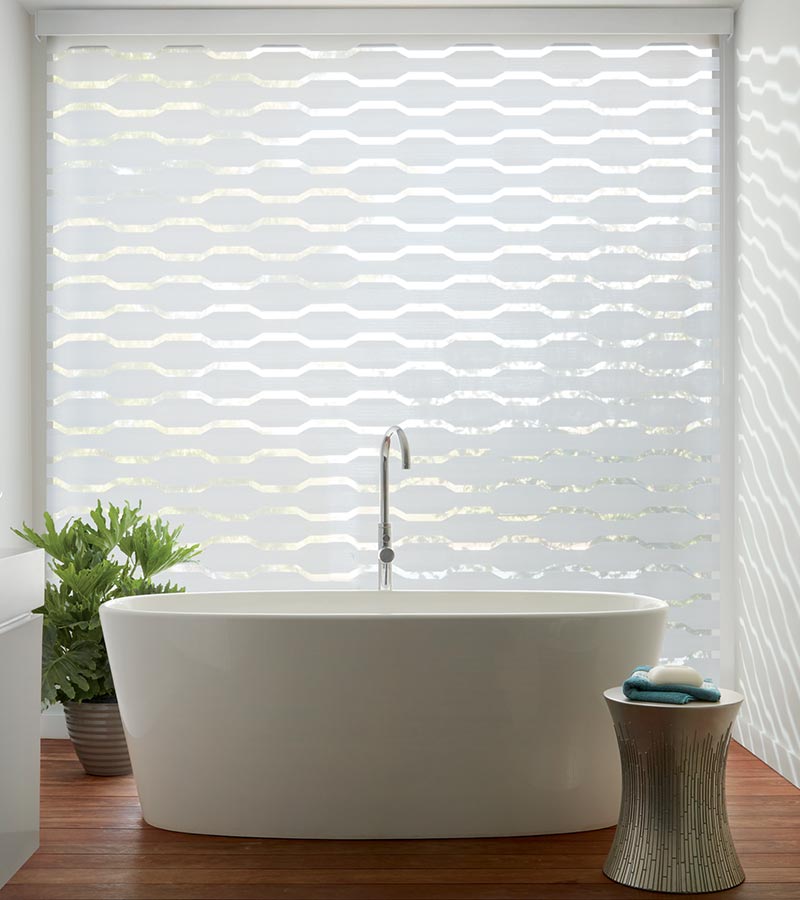 When you need that added layer of privacy, it's there with a simple adjustment to the shade. Then, when you want to let the light pour in and enjoy the view, say when you're doing your makeup, you can simply achieve that too! Smart shades help add even more ease and convenience around the home by making adjustments as quick as tapping a button.
Are You Working with a Smaller Space?
Powder rooms, or smaller bathrooms in general, often have smaller windows. Not to worry, we have the perfect selection for them too! Sticking with a neutral colored option for these spaces will help to not flood the space with too heavy of a treatment, giving the illusion that it is a larger window and space overall.
Keeping in mind the adjustment process for these treatments is important, too. Whether it's a guest bathroom, children's bathroom, or your powder room, everyone will thank you for the ease and simplicity of raising and lowering the shades.
Our Team Can Help Finding the Right Bathroom Features
With the countless options, we understand that it can be tricky to know where to start. That's why our team is always here, and eager, to help! No matter your style, we will be able to combine that and the functionality needs that comes with outfitting windows in a bathroom. If you're ready to get started updating your bathroom features, contact us today for your FREE consultation.